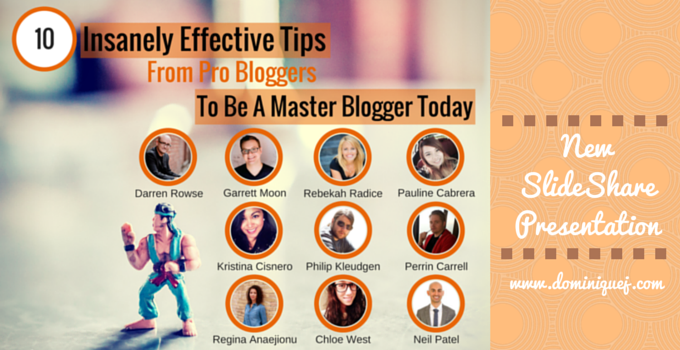 Struggling to get your blog going? Then you need to check out my latest SlideShare presentation, "10 Insanely Effective Tips From Pro Bloggers To Improve Your Blog Today!"
This SlideShare is a compilation of some great tips I've found from some awesome bloggers. I handpicked tips that are actionable and will have a big impact on your blog. So check it out, download it, share it, and put these tips into action!
And in case you missed my first SlideShare presentation, you can check it out here.
I want to give a special shout out to all of the bloggers I mentioned in this presentation:
Garrett Moon – https://twitter.com/garrett_moon
Rebekah Radice – https://twitter.com/rebekahradice
Pauline Cabrera – https://twitter.com/Twelveskip
Kristina Cisnero – https://twitter.com/K_Cisnero
Philip Kluedgen – https://twitter.com/restacover
Perrin Carrell – https://twitter.com/NichePursuits (this Twitter account is technically for Spencer of Niche Pursuits, but you can check out Perrin's writing here)
Regina Anaejionu – https://twitter.com/byReginaTV
Darren Rowse – https://twitter.com/problogger
Chloe West – https://twitter.com/ChloeWest28
Neil Patel – https://twitter.com/neilpatel