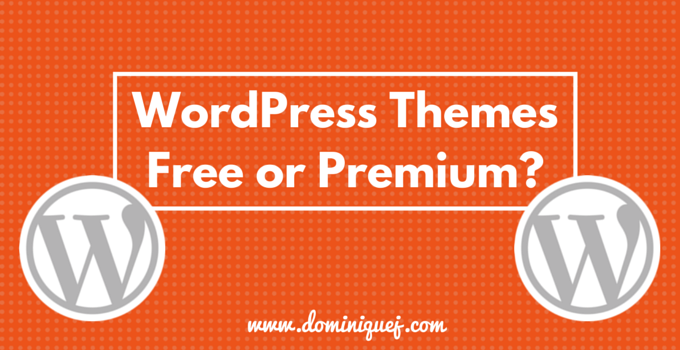 In a blog post that I recently read on one of my favorite blogs, Niche Hacks, the writer made a comment about premium WordPress themes being "better" than free ones. He basically pointed out that serious bloggers need to use a premium theme. In case you can't tell by the comment I left, I strongly disagree with that advice. The idea that your site is somehow more professional or better because you paid for a theme is crazy to me.
And then once I saw this response to my comment, I decided to write a new post about the topic, and here we are.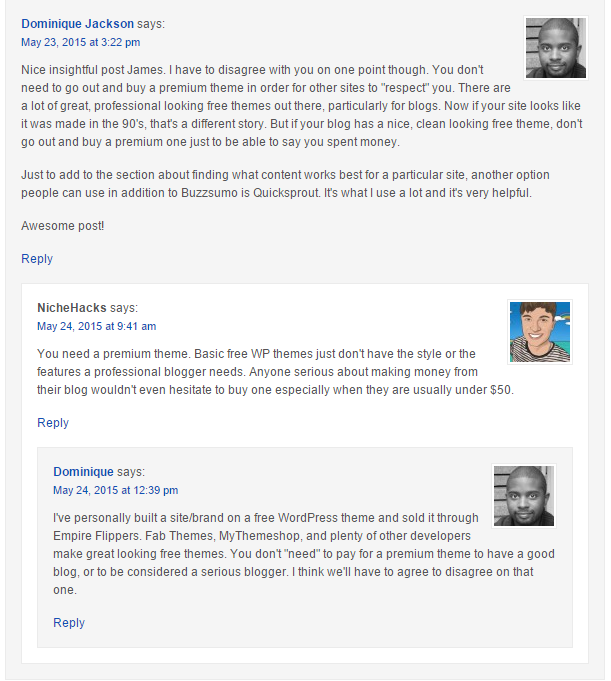 I want to make it clear that Stuart (the owner of Niche Hacks) and James (the guy that wrote the article) both know their stuff, and Niche Hacks is filled with great information. In fact, this is the first time I've disagreed with anything I've read on the site. But I don't want you or any other bloggers to be mislead by something that just simply isn't true.
Why I Disagree
Before I breakdown some of the things you should consider before getting a WordPress theme, I want to explain why that particular part of the post, and the reply to my comment make me react. I think everyone should invest in themselves at some point or another to grow their blog. It's inevitable. You're going to spend money on hosting, a domain name, graphics, software, or something at some point. BUT, the thought of spending money just for the sake of spending money isn't something I can get with.
The main point Stuart and James were trying to make is that premium themes make your blog look more professional. That's just not true. I'm not going to go into a whole list of all the awesome looking free themes out there, but take a quick look at just a couple of the free themes available from MyThemeShop:
GreenChilli Theme (this is the exact theme I used for the first blog I sold on Empire Flippers)
Whether you choose to go with a free or premium WordPress theme will depend on a few different things.
Money
Your web design skills/knowledge
Your preference
With that said, here is my take on the Free WordPress Themes vs. Premium Themes debate.
Money
One of the reasons I first got into blogging was because it's extremely cheap to start. In fact, you can start up a blog for free if you want. Stephanie O'dea did it and built up an entire business around it. But when it comes to deciding whether or not you want a premium WordPress theme, the first thing you should ask yourself is do you even want to pay for a theme? You can get premium themes for anywhere from <$10 to $100+. On average though, most premium themes cost ~$40-50.
Now before you start throwing money at a new theme, make sure you're getting your money's worth for it. Some premium themes will come with a ton of "premium" plugins and features that most people won't ever use. Having built-in plugins won't make your blog great, your content will.
What I've done in the past is use a free theme to start out with just to get the ball going. Don't get distracted by shiny object syndrome and think that something is better just because the sales page says it comes with Google Fonts or custom colors.
If you see a premium theme that has all of the features you need, and you have some money to spend on it, go for it. But don't feel obligated to get a premium one just to keep up with the Joneses. And let's be real, nobody that visits your site is going to know whether or not you're using a free or paid theme. As long as it looks nice and functions correctly, that's all that really matters…. aside from your content of course.
Web Design Skills
If you have coding and web design skills, you can pretty much do anything you want with WordPress themes, free or premium. You'll see people who transform the default Twenty Fifteen WordPress theme into a completely unique site that doesn't have any traces of the Twenty Fifteen template.
Web design and coding knowledge are invaluable when you're starting up a blog or any type of site because you can really make a completely custom site from scratch or using a free theme as a base.
What I've noticed is that people buy premium themes solely for the aesthetics and design of the theme, while completely ignoring the features and functionality. If all you're looking for is a theme that looks nice and you have coding skills or the desire to learn, you can pretty much make your theme look however you want.
Your Preference
The last thing I want to mention is that it really all boils down to your personal preference. If you find a premium theme that you really like and it has all of the features you want, then you may want to invest the money into it. But if you find a free theme that does everything you want, why spend the money on a premium one? I don't know of anyone who's ever refused to go to a site because it uses a free WordPress theme.
Your decision should be based on your personal preference, and the theme itself, not whether or not it's free or premium. Plus, you're probably going to change your theme up so many times over the years that you won't even remember what you started with.
Wrap Up
I've used both free and premium themes for my blogs and I can assure you that your blog won't be ruined by the decision to use either one. If you have the money to spend on a theme and find one that you really like, go for it. But the point that I really want to get across is that you don't need a premium theme to have a successful blog.