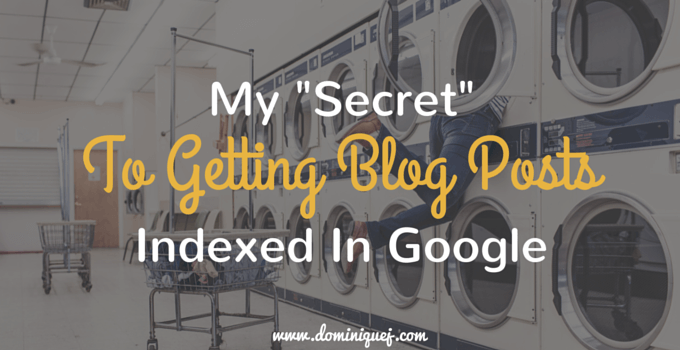 A question I see get asked a lot by bloggers just starting out is how do you get your content indexed in Google? Traffic from search engines (mainly Google) makes up a majority of the visitors on a lot of blogs. But in order to get that traffic, your content has to show up in the results. I've seen a ton of different tips like Pinging, tweeting a link to the post or posting a link to all of your posts on Google+. All of that stuff is cool, but it's not necessary in order to get your content indexed.
Most of my blog posts get indexed either the same day I post them, or within a day or two after. Not only do they end up getting indexed, but they're usually ranking within the first 3 pages of Google within a few days for my target keywords. Page 3 on Google might not sound so great, but it's actually really good for a brand new blog post that's only been up for less than 24 hours.
How am I able to pull this off? Do I have some secret connection at Google? I wish! The truth is I do two things:
Make sure my blog is setup in Webmaster tools
Post content consistently
P.S. For those of you wondering what I mean by "indexed in Google", that just means that your content shows up in Google's search results.
The Super Basic Explanation Of How Google Indexes Content
This is probably the least techy description of how Google indexes content.
Google sends out what's known as spiders or bots to "crawl" all of the pages around the web. In order to tell Google that they're welcome to crawl your site, you setup a file on your site called a robots.txt.
Web site owners use the /robots.txt file to give instructions about their site to web robots; this is called The Robots Exclusion Protocol.

It works likes this: a robot wants to vists a Web site URL, say http://www.example.com/welcome.html. Before it does so, it firsts checks for http://www.example.com/robots.txt
The robots.txt file tells Google's bots whether or not you want them to index your content, and what parts of your site they're allowed to go in. It's like a gatekeeper. Here's a video that shows how to add a robots.txt file for your site.
How To Tell If Your Content Is Indexed In Google
Get your pen and paper ready because this part is extremely technical! Ready? Here it goes…
In order to tell if your content is indexed in Google, just do a Google search for your blog post's URL! If the post shows up, then it's indexed. If it doesn't, then it's not.
Here's a search I did for my last post on deleting the uncategorized category in WordPress.

The post is the very first result, so I know right away that it's indexed in Google.
Setting Your Site Up In Google Webmaster Tools
This step is really simple, and an absolute necessity for every blogger. It's adding your site to Google Webmaster Tools. GWT is how Google communicates with webmasters (you) about your website. It's how Google lets you know if their bots aren't able to crawl your blog, if your site isn't showing up correctly on mobile, being hacked or any other technical issues that you need to fix.
One of the best features on GWT is the ability to submit your sitemap to Google. A sitemap is an organized list of all the pages on your site. Whenever you add a new page or blog post, your sitemap gets updated and adds it to the list. By submitting your sitemap in GWT, you're making it easier for Google to understand what pages are on your site, and notify Google's bots when new pages are added.
Once your site is added and verified in GWT, you can add your sitemap under Crawl > Sitemap. Now, you're probably wondering how do I find my blog's sitemap? A sitemap isn't automatically added in WordPress. You have to create one. The easiest way to do this is with a plugin. If you're using the Yoast SEO plugin, you can create a sitemap by going to SEO > XML Sitemap.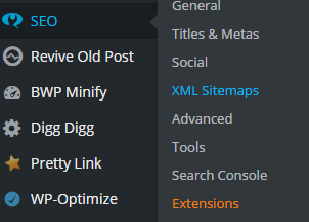 Check the box to enable the XML sitemap functionality. Then you can click on the button to go to the link to your sitemap.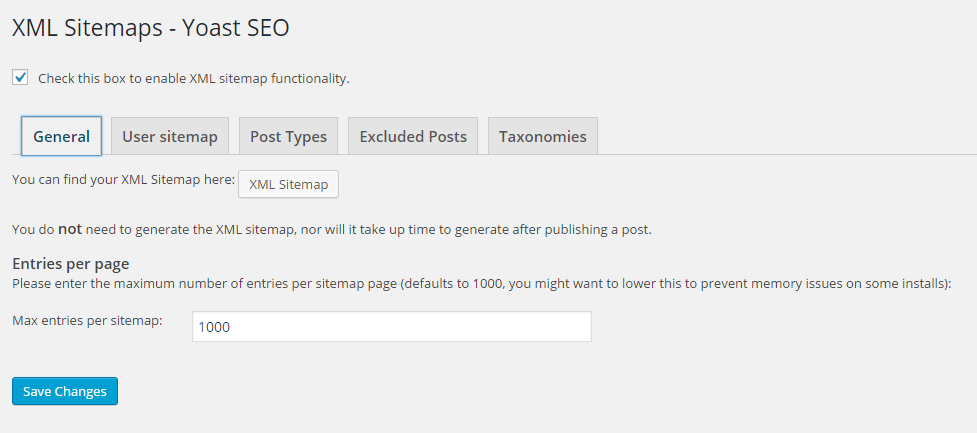 It'll most likely be something along the lines of:
"http://dominiquej.com/sitemap_index.xml"
The part that you're going to copy and paste into GWT is the part after your domain name, so:
"sitemap_index.xml"
Then submit the sitemap and Google will start indexing all of the pages currently on your site.
GWT is really in depth and there are a lot of awesome features to it. I was going to write up a tutorial but this guide I found on Search Engine Watch is really good and has most of the info I'd include. I highly recommend giving it a read for a more in depth look at GWT and setting everything up.
Now every time you add a new blog post, it'll be added to your sitemap and as Google's bots crawl your site and look at your sitemap, they'll see that there's a new page/post added and check it out.
Posting Consistent Content
That takes care of the "technical" aspects of getting your content indexed in Google. Having a robots.txt file and an XML sitemap setup are extremely important, so make sure you take care of that ASAP if you haven't already. Now let's talk about the non-technical reason I'm seeing my blog posts get indexed so quickly.
It's because I post on a VERY consistent basis. Since March 2015 (around 6 months now) I've been adding new content to this blog every single Monday, Wednesday and Friday.
Here's why this helps. The more often a site is adding pages, the more frequently Google's bots will crawl it for new content. That's why some sites that post really sporadically tend to have a tough time getting their content indexed quickly. Or why new blogs can take a while to start showing up in Google. They haven't built up that consistency yet.
This doesn't mean that you have to start posting 3 days a week like me. But it does mean that you should develop some kind of routine posting schedule. Personally I'd recommend my 4 week blogging program ;). If Google sees that you're regularly updating your site with fresh content, their bots are going to check it more often.
That's all there is to it guys. No tricks or gimmicks. Like I always say, blogging is EXTREMELY practical and straight forward. Don't try to complicate things.
Just make sure your blog is setup correctly in Google Webmaster Tools so that their bots can crawl it, and start posting on a regular basis. You'll start getting your content indexed quicker and not have to stress over whether or not your content is showing up in Google.