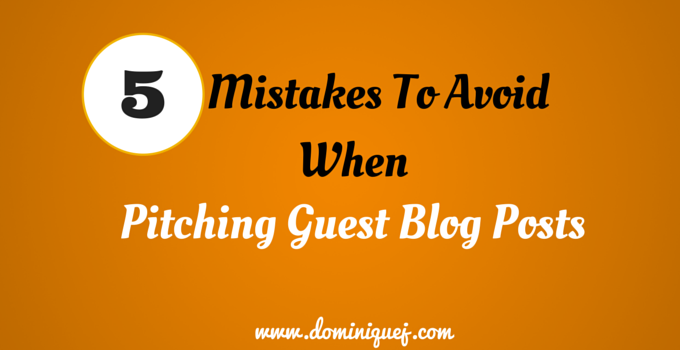 Guest blogging is one of the best ways to build your authority, get traffic for your blog, and even help out with SEO. Unfortunately, I still see a lot of people that go about pitching guest blog posts like it's 2010. But things have changed, A LOT since the good ol' spammy days.
People aren't as open to accepting guest blog posts as they once were. And the real value from guest blogging comes from being featured on more popular blogs with a pretty decent sized following. So it's a little more difficult to get a guest post on those sites than trying to get a post on a site that's just starting out and is desperate for content.
In order to help you sharpen your guest post pitch skills, and lower the number of rejections you get (nobody likes rejection!), here are 5 mistakes that you should try to avoid at all costs.
1: Demanding Stuff
One time I got an email from someone wanting to guest post on one of my blogs and they were demanding (not even asking) that I link back to their website. Sorry, but that's not how it works. When you're reaching out to someone and asking for them to allow you to be in front of their audience, you're not in a position to be demanding anything.
Whenever I've guest posted for someone, I've never just assumed they should give me a link. I ask what their policy is. Some people prefer to just link to your social media profiles, some will let you link to a landing page. It all depends. The point is, it's their blog so it's their choice.
When you're pitching, avoid saying things like "all I ask for in return is a link back to my site" or anything like that. It makes it seem like your main purpose for guest blogging is to get a link, and that's a big turn off.
2: Writing Too Much
Your guest post pitch shouldn't be more than a couple paragraphs long. People are busy, and you have to respect their time. Expecting anyone to read through an essay in order to find out what you want is inconsiderate and a quick way to get your email deleted. The QuickSprout contact form does a pretty good job of explaining how to reach out to people online.
When you're pitching, get to the point as quickly as possible. All they need to know is who you are, what you want, and your ideas for what you'd like to write about. Don't go off into a detailed breakdown of what your guest post ideas are about. The more words someone sees in your emails, the less likely they're going to be to read it.
A lot of people make this mistake because they think that writing a longer email shows that they're being thoughtful and putting effort into it. But most of the time it ends up having the opposite effect. Short and sweet is the name of the game.
3. No Personalization
If there's not even the tiniest shred of evidence that you've ever read the blog you're asking to guest post on in your email, it just screams SPAM. I can't even count the amount of emails I've received that start with "Dear webmaster" or without a greeting at all. Here's an actual example of one of the "pitches" I received recently.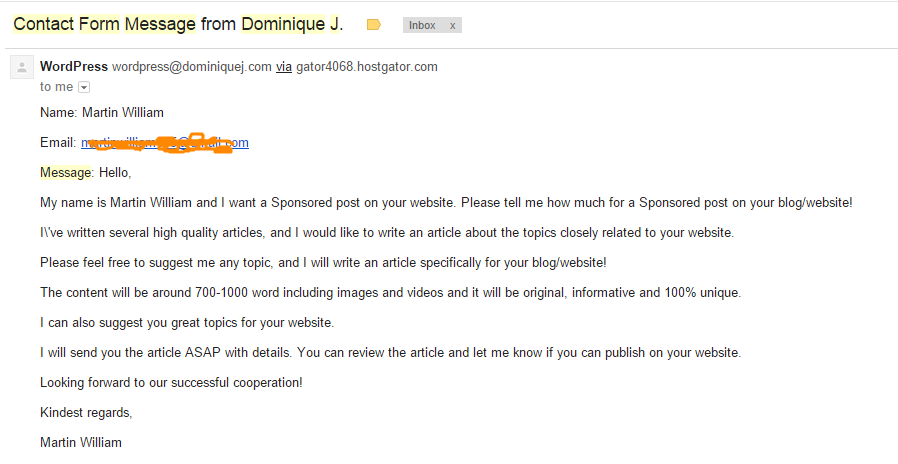 Yea, it's awful.
It's clearly an automated spam message that was probably sent to hundreds or thousands of blogs in hopes of landing one sucker. Don't be like Martin William. Make sure that you personalize your guest blog pitches so that the site knows that you're being sincere and serious. If my name isn't mentioned in the email, I don't even entertain them.
4. Sending Pre-Written Blog Posts
The general process I recommend for trying to land guest posts is:
Develop a relationship with the site (through commenting, interacting on social media, or emailing)
Once the relationship is strong enough, express your interest in guest blogging
Submit your pitch
Once the pitch is approved, write the post
But the process that a lot of people follow is skip #1 and #2, then combine #3 and #4 into one. Yup. Some people actually write out an entire blog post and send it as their pitch.
Here's why this is a big no-no.
It shows that you don't care about the other site's editorial process. You have no idea if they want a post about the topic you wrote about
You more than likely just wrote out a blog post and you're trying to get it on any site that'll have you
If they don't want your post, you've just wasted your time
A lot of sites like to give you some topics they're interested in having written about
Submitting a pre-written blog post in your guest post pitch is pretty much the equivalent of asking out a stranger for a same-day date at a restaurant that you've already made reservations at. You have no idea if they're free or not. You don't know if they're even interested in you. And you don't know if they want to go to the restaurant you picked out.
5. Not Giving Any Info About Yourself
Notice how in the example I gave from Martin William there's absolutely no way for me to know who he is. No website (just used a generic gmail account), no Twitter handle, no samples of other sites he's written for or anything. It's more than likely because Martin William is just a made up name and it's some spammy SEO company trying to get links or something. I call these ghost emails. But even still, there's a valuable lesson there.
In your pitch, you should always include a link to your site, one of your social profiles, and examples of content you've written on other sites. Those ghost emails sent out from fake personas aren't rare. They get sent all the time. So when a blog can see that you're an actual person, it increases the likelihood of them being willing to work with you.
Before you start pitching guest posts, make sure you have:
Your own website with at least 5-10 posts published on it
A Twitter, Facebook, or even LinkedIn account with your real picture and info on it
And if you have examples of sites you've written for, include a link to one or two.
Let's recap this real quick. Your guest post pitch:
Should be personalized
Should be short and sweet
Should include samples of your work (from your own site or other guest blog posts)
Should have a link to your website or a social media profile
Shouldn't come with a pre-written blog post attached
Shouldn't demand a link back to your site or anything else
Have any other tips on creating a guest post pitch? Let me know in the comments below or tweet me!