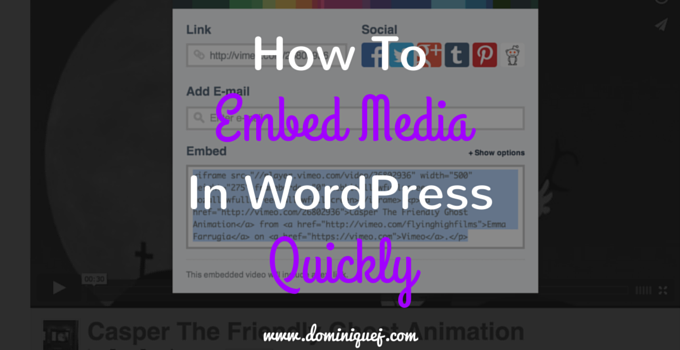 Without even noticing, I've been giving some type of WordPress tip each week. It's not something I planned on but it's been working out like that for a few weeks so I decided to make it into a "thing". I think it'll be a pretty cool routine piece like my mythbuster posts. It looks like Friday will probably be when my WordPress tips go up. I'll vary the posts up, but they'll all be WordPress related. I'm thinking:
WordPress "how to's"
Reviews of plugins
WordPress hacks
Best plugins/themes lists
Whatever else I can come up with. Feel free to tweet me your suggestions!
WordPress is the most popular blogging platform out, so there's a good chance that you're using it to run your blog too. My goal is to share what I've learned about WordPress over the years with you all. I'm not going to blog about developing plugins or any super technical stuff here. Just some basic WordPress tips to help bloggers out.
For more in depth WordPress tips, I highly suggest checking out WPBeginner. That site is ALL about WordPress and they have a ton of video tutorials and guides that cover the technical stuff.
Auto-embed Media In WordPress
This post is about something that'll help you create posts quicker. If you've ever wanted to add a YouTube video, Instagram pic/vid or Vine into your post, you know how much of a bother it can be to have to grab the embed code, copy it, switch to the text view in WordPress then paste it. Sometimes it doesn't format correctly and causes issues with your entire post. But did you know that WordPress has a built in feature that lets you skip copying/pasting embed codes?
All you have to do is paste in the URL of the media that you want to embed directly into your post, and WordPress will automatically detect it and add in the media.
Here's an example. Let's say you want to add this YouTube video into your post.  All you have to do is copy the URL for the video (https://www.youtube.com/watch?v=zgrrjh5_7IM) and paste it into the Visual editor like this:

And it'll automatically show up like this
And it's not just video. You can embed images from Instagram, tweets, audio, SlideShare presentations and other types of media. It's pretty awesome. But it doesn't work for every site.
For instance, if you wanted to embed a video from TMZ into your blog, you couldn't just paste the URL. You'd have to use their embed code. How do you know which sites work and which don't?
WordPress has a whitelist of sites you can auto-embed from. And they keep adding new sites on too.
| | |
| --- | --- |
| DailyMotion | Videos |
| EmbedArticles | Various |
| Flickr | Videos & Images |
| FunnyOrDie.com | Videos |
| Hulu | Videos |
| Imgur | Images |
| Instagram | Images |
| iSnare | Articles |
| Issuu | Documents |
| Kickstarter | Projects |
| Meetup.com | Various |
| Mixcloud | Music |
| Photobucket | Images |
| PollDaddy | Polls & Surveys |
| Rdio | Music |
| Revision3 | TV shows |
| Scribd | Documents |
| SlideShare | Presentation slideshows |
| SmugMug | Various |
| SoundCloud | Music |
| Spotify | Music |
| TED | Videos |
| Tumblr | Various |
| Twitter | Social media |
| Vimeo | Videos |
| Vine | Videos |
| WordPress.tv | Videos |
| YouTube | Videos |
It's that easy! Sizing and everything is taken care of. Give it a try and let me know what you think!