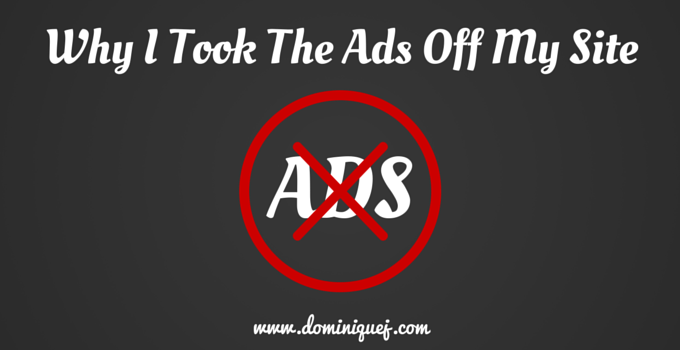 When most people think of how bloggers make money, they immediately think of ads. And when I say ads, I'm specifically talking about banner ads. You know, those annoying little blocks you see in sidebars and headers all the time. In fact, unless today is your first time seeing my blog, then you've probably seen ads on my site too. But this week I made a decision. I'm no longer displaying ads on my blog. Here's why….
They Don't Add Value
Ads are a form of outbound marketing. They deliver advertising messages to you that you usually didn't ask to see. In most cases, they even disrupt your readers' experience.
For my site, I want it all to be about offering value to you. Ads don't add value. Their purpose is to get you to buy something. Even though the products I could promote would be valuable to bloggers, the ads themselves aren't.
Instead of just putting up an ad, having you click it and go to a sales page, it would give you so much more value if I wrote a review of the product or did a tutorial on how to use it to benefit your blog. That way, I'm not just telling you to buy something. I'm teaching you how to use a new tool, program, or product to improve your blog. See the difference?
They're A Waste Of Space
Harsh!
Your blog only has so much real estate on it. You have your header, the main body, sidebar, and a footer for the most part. It's important to maximize that space as much as possible. For me, putting an ad in my header or sidebar isn't as good of a use of space as putting up a link to one of my best blog posts, or even promoting my Twitter profile.
A lot of bloggers put up ads just because they want to fill up space in their sidebar. The reality is that you'd probably be better off filling that space with something more valuable and useful. Some examples of things you could put in your sidebar besides ads are:
Email subscribe form
Links to your most popular posts like Quick Sprout
Social media links
A mini bio of yourself like this
Your blog's categories, a la Steve Scott
Promotions for your own products
With all of these other options you have, filling that sweet space up with ads just seems wasteful. And I've been guilty of it too. I've have blogs where I had no clue what to put in the sidebar. So I just went on CJ Affiliate, found a company that was somewhat relevant and throw some ads in there so it wouldn't look so empty. But that's a lazy cop out. Fill your blog's widget areas with valuable content, not ads.
86% Of People Have Banner Blindness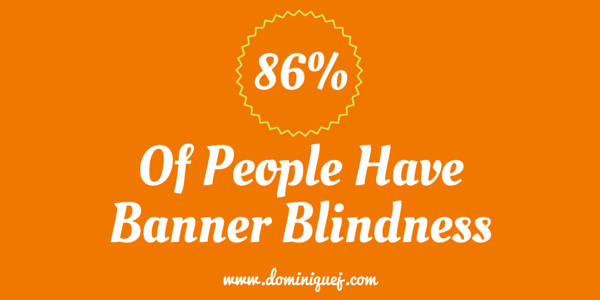 I made a whooping $0 from ads on this site. I probably shouldn't say that in case any potential advertisers come across this….. but oh well, they know what the deal is with banner ads.
Banner blindness basically means that people ignore banner ads. Back in the early days of the internet, banner ads were still annoying, but at the same time, not as many people thought they were as useless as as they are today. Over the years, people have become oblivious to ads. Our eyes are trained not to even look at them any more, yet alone actually click one.
And with most web browsers having extensions to let you block ads (I use Adblock for Google Chrome), it's becoming even easier not to see ads.
There Are Other Ways To Make Money Blogging
Even though I had ads on my blog, I knew I was never going to make a bunch of money from them. Don't get me wrong, there are some sites that make a decent amount of change from ads, but they're in the minority.
Blogging has changed. You know I'm a big supporter of inbound marketing, and a lot of the same beliefs and techniques involved with inbound marketing also apply to monetizing your blog. Instead of pushing ads into your readers' faces, you have to offer them some kind of value, build their trust, and then sell to them.
So if you're not using ads, then how do you make money from your blog? I'm so glad you asked!
Create your own infoproducts (eBooks, workbooks, courses, etc)
Create physical products
Offer coaching or other services
Affiliate marketing
Create a membership site
All of these methods are where a lot of successful bloggers are going right now. The first site I sold made money from affiliate sales from links within my content, not banner ads. And people like Pat Flynn and John Lee Dumas are showing that the best way to make money blogging is by focusing on adding value, building your audience, and then selling.
Are Ads Useless?
Absolutely not. There are plenty of bloggers that make a lot of money from ads. I encourage you to give it a try and see how it works out for you. But for me, ads don't fit with my personal brand and the message I'm trying to convey. Which is to provide unbeatable value and awesome content.
With that being said, here's what my approach will be for products (mainly online marketing/blogging tools) that I want to promote. I'm not just going to throw up an ad on my sidebar or header that links you to a sales page. I might have a widget in my sidebar that takes you to a post of me reviewing a specific product, or a guide on how to use a tool to grow your blog, with affiliate links in the content. But I'm not just going to be running paid banner ads for the hell of it on this blog.
Secondly, I plan on launching my own products in the future, whether it be an eBook, blog consulting, or even a course. I encourage you all to do the same thing, even if you are doing affiliate marketing or running paid ads. Making your own products and services gives you the biggest chunk of the pie, and it really builds you up as an authority.
Team Ads or Team No Ads?
What are your thoughts on running ads on your blog? I'd love to know in the comments section. Or of course, you can always tweet me!