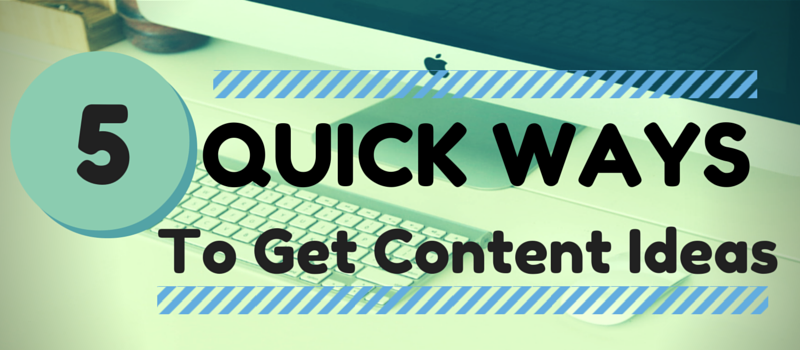 All content starts from an idea. Unfortunately, one of the hardest parts of making great content is coming up with that initial idea. In the past, I've sat and stared at a blank screen for what seemed like hours trying to come up with the perfect topic to write about. And judging by all of the "content ideas" articles I see all the time, a lot of you can probably relate.
Today, I'm able to come up with content ideas pretty quickly. It's because I use tools and techniques that I know deliver winning content ideas. I'm going to share 5 of those techniques/tools with you so that you can stop staring at a blank screen and start creating amazing content!
1. ContentIdeator
If you read my 10 Online Tools For Content Marketing post, then you're already familiar with ContentIdeator. For those unfamiliar, this is a tool from the team at Content Forest. It works by letting you plug in a keyword or general topic, and it gives you blog post titles from content that already exists online that also uses that keyword.
Now, don't go off and just copy other people's content. Use them as a foundation to formulate your own ideas. For example, I did a search for "Content Marketing". Here's the results.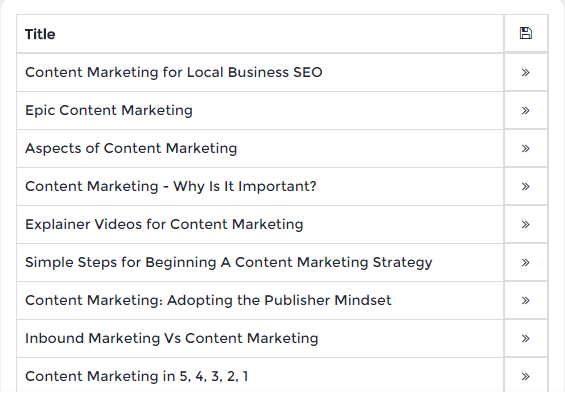 Using this example, I could come up with content ideas like:
The Ultimate Guide To Local SEO For Small Businesses
How To Supercharge Your Content Marketing Like The Pros
Is Your Content Marketing Strategy Missing These Vital Pieces?
Why Content Marketing Needs To Be A Part Of Your Marketing Strategy
You get the point. Notice how I used the suggestions from ContentIdeator without straight up copying the topics. If you have a general idea of a topic or overall theme you want to write about, start with ContentIdeator to get the creative juices flowing.
2. Build Off Your Existing Content: The Spinoff Method
Sometimes, when you've created a ton of content for your website it starts to become more difficult to come up with new ideas. But what you'll find is that sometimes new content ideas are right under your nose the whole time!
With this technique, you're going to look through some of the content you've published in the past. You could do this by going into Google Analytics and seeing which posts have had the most views, or by plugging your site into Quicksprout and seeing which content has the most social shares.
Once you've identified a piece of content that was popular, go through it and look at some of the points you mentioned. Look for certain sentences or statements that could be made into an entirely different blog post. In other words, something you can make a spinoff from.
For example, I just mentioned that you could use Google Analytics to find out which posts/pages on your site has the most views. If I wanted to, I could make a spinoff blog post that explains how to go about doing that. After I make the post, I'd come back into this post and link to the spinoff! And within the new spinoff post, I would reference this article with a link. Boom! That's how you interlink posts!
3. Series Posts
If you want an unlimited stream of content ideas, create a post series. For instance, Moz is well known for their Whiteboard Friday series where they discuss SEO related topics. And I've just started my Mythbuster series where I tackle some of the most common myths in content marketing.
Series eliminate the need of having to try to "reinvent the wheel" with each post. They give you a place to start so that you're not forced to come up with completely new ideas every time you want to make a blog post.
Another great benefit of series posts is that they give your audience something to look forward to. I'm sure Moz gets a rush of traffic on Fridays from people anxious to see what Rand Fishkin will be talking about. Create that same intrigue within your site by creating an ongoing series of posts that are all connected with an overarching theme.
4. Stay Up On Industry News & Blogs
A big part of the reason why I don't struggle to come up with content ideas anymore is because I'm always reading up on my industry and I follow a TON of blogs related to content marketing, SEO, branding, etc.
Find some of the top sites within your industry and see what they're writing about. See what people are gravitating towards. Don't focus so much on the exact blog posts, but more-so the topics that you see being discussed frequently.
For example, a while back when My Blog Guest go smacked by Google, and Matt Cutts called for an end to guest blogging for SEO, you couldn't find a single internet marketing related blog that didn't do a post about Guest Blogging. So what did I do? I wrote a blog post about it too!
Some of you might be thinking, "but isn't this a follower mentality? I shouldn't be writing about the same thing as everyone else!" Wrong! When there are trending topics in your industry, you should be writing about them. The trick is to do it differently. People want to know your personal take and insight into the topic.
For my post about guest blogging, I didn't just report news on My Blog Guest being deindexed. I expounded and gave my opinion on whether or not people should still be guest blogging, and also gave tips on how bloggers should start approaching guest blogging. In other words, I offered my expertise. That's something that is specific to me and my site that nobody else can offer.
Anyone can talk about trending topics, but only you can give your personal opinion and expertise!
5. Check Twitter
Twitter is one of my go-to sources for content ideas. You can also look through Facebook, Google+, LinkedIn, or other sites, but I like Twitter for a few specific reasons:
People tweet links to content they like, so I know there's some level of demand for it
I can search through hashtags to see trending topics
I can see what topics influencers are talking about
As some of you may know, I use Sprout Social to manage my Twitter-Universe. I can do searches for things like "#Socialmediamarketing" and "marketing ?" These searches let me see what people are talking about related to these topics and other different searches. Once I notice certain trends, or even a single tweet related to a topic I'm interested in writing about, I start crafting an idea.
For instance, here's a tweet that showed up in my "marketing ?" search:
The key to successful content marketing? More promotion, less content – http://t.co/aIget9NSsE #socialmarketing

— Friendly Connect (@FriendlyConect) March 18, 2015
That tweet sparked an idea for me to create some type of content about promoting content. So I'll be working on that, and hopefully you'll be able to read it soon! And Twitter is filled with so many more topics like this in virtually any industry you can think of.
Do a few searches for different phrases or topics related to your industry and spend a few minutes each day browsing through the tweets and I guarantee you'll be able to pull out some good content ideas.
Less Excuses, More Ideas
With these 5 techniques, you'll never have to struggle to come up with ideas for content again. Take action today by implementing at least one of these methods to make a list of around 10 content ideas. Then get to work on crafting something amazing!
What techniques help you come up with ideas when you're drawing a blank? Let me know in the comments below or tweet me!