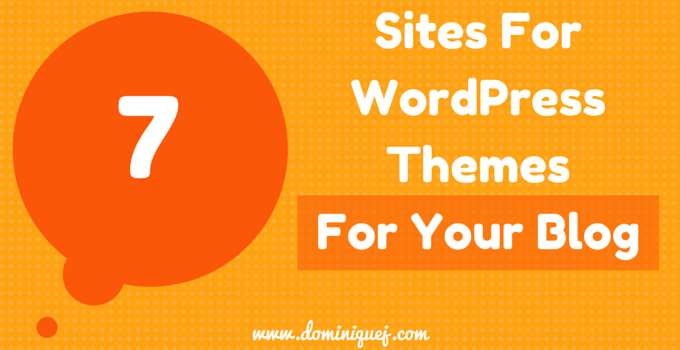 So you're looking for a good WordPress theme to start up your blog eh!? Good move. You probably know by now that I'm a huge fan of WordPress and recommend it for all bloggers. For those non-developers out there like myself, one of the best things about WordPress is the huge library of themes/templates that you can get so that your blog doesn't look like garbage. Just because you're not a developer doesn't mean you shouldn't be able to have nice things!
If you're a new blogger, then there's a good chance that you're going to be all over the place trying to find the perfect theme for your blog. I'll help you out in advance by letting you know that there is no "perfect" WordPress theme for your blog. I can pretty much guarantee you that you'll change themes at some point, and that no single theme will fit all of your needs. The goal is to find a theme that checks off most of the needs on your list, works well, and has the overall look that you're after.
The first thing you're probably going to do when you're looking for a theme is to Google "WordPress themes". Then you're going to come across a bunch of "Top X WordPress themes for bloggers" articles. The thing about those lists is that they usually contain a lot of the same themes, and they restrict you. And those lists tend to be pretty bogus because a lot of the times they're recommending themes that they've never even used, so they end up recommending themes based on how they look. But a good WordPress theme is about more than just cosmetics, it's about functionality.
So instead of doing another list of specific themes, I decided to make a list of the top sites that you can look through to get either free or premium WordPress themes, and decide what works best for you.  Whether you're on a shoestring budget or want to spend a little more mula, at least one of these sites has a theme you can use for your blog. Now if you're really balling and want the "perfect" theme, you can skip the premade templates and pay someone to make you a completely custom theme for your blog. But for the most part, using a WordPress theme is the way to go, especially for new bloggers.
Without further ado, let's get to the list of the top 7 sites to get WordPress themes for your blog.
I've personally gotten WordPress themes from every one of the sites on this list. So these are my personal recommendations, not one of those generic top X lists!
1. MyThemeShop
There's no way I could make this list without having MyThemeShop on it. It's where I got the theme I use for this site, and I've used a handful of their themes for other blogs I've had. MTS has both free and premium themes, so it's great no matter what your budget is. Another bonus of MTS is that they are constantly releasing new themes. It seems like almost every week I get an email about a new theme they're releasing.
And they make themes specifically for bloggers which is what I like the most. What I mean by "for bloggers" is that the layouts, usage of Google fonts, and other features are catered towards blogs, not just business sites. So you have options like the author box, related posts, and other options built into your theme. They're easy to just install and start blogging instead of spending 30 minutes trying to figure out how to setup the home page. And of course, you can get 50% off any theme if you use the coupon code Dominique.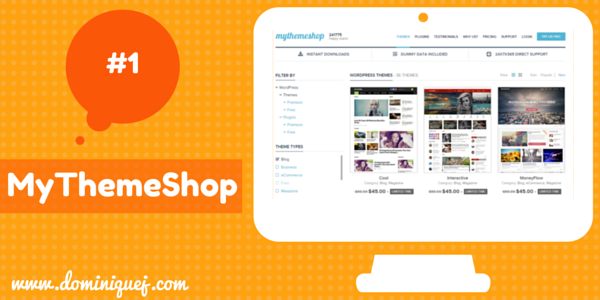 MyThemeShop is the choice for bloggers who: Want a "classic" blog layout with strong featured images, and a focus on content.
2. ThemeForest
ThemeForest is the most popular marketplace for WordPress themes. Unlike MyThemeShop, the themes on ThemeForest are made by  freelance developers and companies. Basically, it's a collection of themes from different people. The benefit here is that you get A LOT of variety. I'm talking about thousands of WordPress themes to choose from.
Personally, I love browsing through all of the different themes, but I know that for some people it can be a little overwhelming. If you're the indecisive type, then it's easy to waste a lot of time trying to decide on a theme. My advice is to try to narrow down your choice to about 10, and then pick from those. Or you can browse through their popular items list to get a starting place. Just don't get too tied up in trying to find a theme, because it'll stop you from getting started with what really matters for your blog, creating content.
The pricing for the themes can vary, but most are around $45-$50. They only have premium themes, no freebies. Take a look around, but don't get too carried away by all the choices.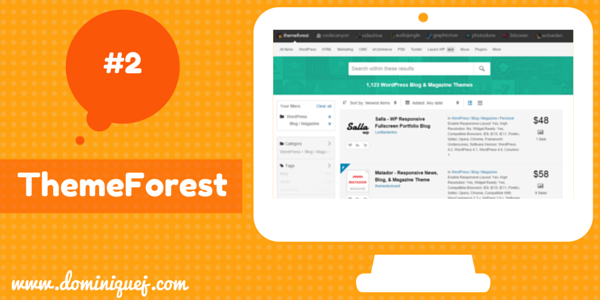 ThemeForest is the choice for bloggers who: Like variety, and aren't indecisive about making decisions.
3. WooThemes
WooThemes is really popular for their business and eCommerce themes. Their WooCommerce toolkit is one of the most popular ways to create an online store with WordPress. But in addition to all of that, they also make some great themes for blogging, particularly the Canvas theme.
Canvas is like a skeleton theme that let's you completely customize it. If you want something that's really unique, or if you're running a blog alongside a business or online store, then WooThemes is the way to go. And they also have a few free themes you can use too. But for the premium themes, you can buy them individually (the pricing ranges from around $39-100+) or buy their All Themes package which gives you access to all of their themes and updates for a year for $399.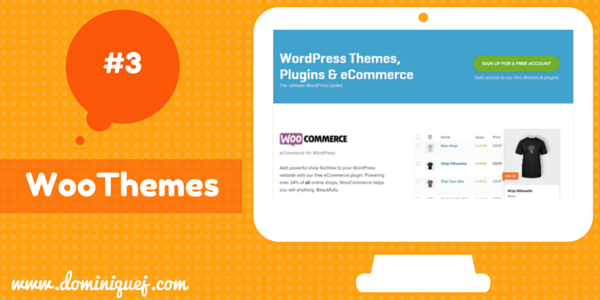 WooThemes is the choice for bloggers who: Are looking to add a blog as a part of a business website or eCommerce site.
4. WordPress.org
It seems obvious, but it's one of those things that's soooo obvious that it's easy to overlook. But WordPress.org has a huge library of free themes that are great for bloggers. The free themes WordPress.org has go beyond just the default Twenty fifteen, Twenty fourteen, etc. ones. There are a bunch of great clean looking themes that are an awesome way to get your blog up and running without having to spend money on a theme that you'll probably end up changing in 6 months.
You can search the WordPress.org themes right from your WP dashboard under Appearance>Themes>Add New. There's a bunch of filtering options to help you rule out the themes that don't fit what you're looking for. The cool thing about it is you can see a preview (ok, it might not be a perfect preview) of what any of the themes will look like with your current content before you actually install it. I've used a few different themes from the free database, so I know there's a lot of good stuff out there. Some of the themes have options to upgrade to a pro version too, so if you like the free version but want all the features, you can upgrade.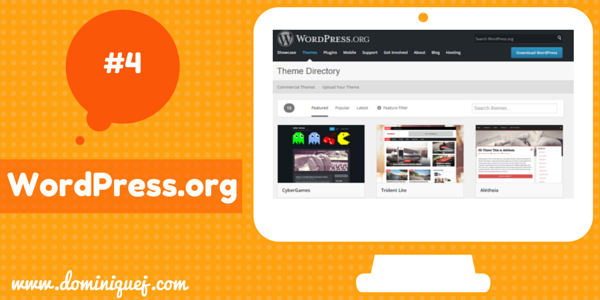 WordPress.org is the choice for bloggers who: Just want to find a free theme quickly and jump into blogging.
5. FabThemes
I'm not sure how well known FabThemes is, but it's definitely one of the best sources of free WordPress themes there is. The themes:
Look awesome
Are fully functional
There's a variety of different themes to choose from
They don't contain any junk code
That last part is important because some WP developers will load their themes (free and even some premium ones) with a bunch of code in the footer. They might put links back to their site with spammy anchor text like "Best WordPress Themes" or force you to keep a link back to their site in order to use the theme. So the fact that FabThemes tells you straight up that they don't do any of that is cool.
Besides clean code, I like FabThemes because they have a ton of free WP themes to choose from, and they don't all look exactly the same. You can also sort their themes by color so you can find something that matches the overall color scheme that you're going for. And to take it even one step further, you don't even have to sign up for anything to download their themes! Just find one you want, download it, and install it on your site. I know this might sound like a commercial, but it really is about as hassle free as you can get.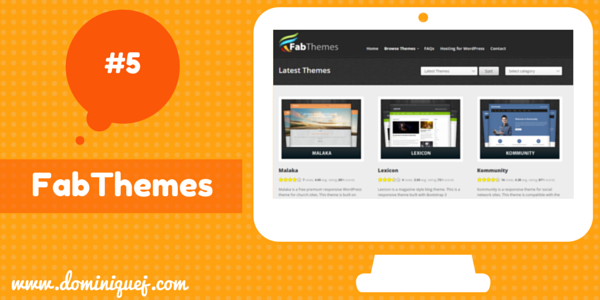 FabThemes is the choice for bloggers who: Want the look and feel of a premium theme without all of the extra bells and whistles.
6. Elegant Themes
I used to be a heavy Elegant Themes user. I used a lot of their themes for my sites when I first started with WordPress, and they worked really well. I even used their most popular theme, Divi, for this site. Elegant Themes is different from the other sites I've mentioned because they use a membership model. You can't just buy single themes, you have to sign up for a yearly membership ($69 or $89), which gives you access to all of their themes and updates for a year, which is pretty cheap. You can also pay for lifetime access ($249) and save money on reviewing every year.
Right now, they have 87 themes in their collection, and 32 of them are under the "Blog" category. Technically, you could use almost all of their themes as a blog if you wanted, but those 32 specific themes are the ones that are made primarily for blogging, so they're probably the ones you'll want to look into.
My recommendation would be to go with the Divi theme. It's their most customizable theme. Because as much as I like Elegant Themes, one of my biggest issues with them is that unless you're a developer, you're going to have a hard time customizing them to look like anything other than what the demo version you see looks like. But Divi is different. You can completely customize everything after spending a little bit of time figuring out how to work with their drag-n-drop interface.
A word of caution though. If you're going to use Divi, read this post from Chris Lema first. Because if you ever plan on switching from Divi to another WP theme, it's not as simple as just installing a new one. But no worries. If you do plan on switching from Divi to another theme, just make sure you copy all the text first so things go smoothly.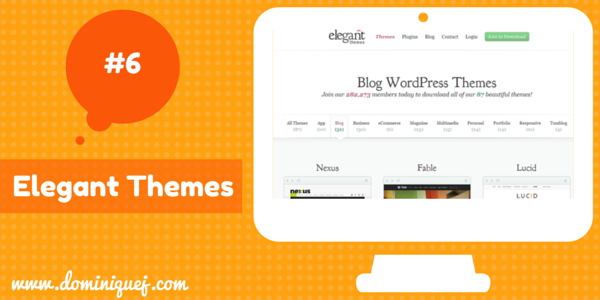 Elegant Themes is the choice for bloggers who: Want access to a bunch of premium themes for a pretty low price.
7. StudioPress
Ever heard of Genesis? Genesis is one of the most, if not the most popular WP theme frameworks there is. And StudioPress is the company behind it. A WordPress framework theme is basically a bare bones theme that developers can use as a base to build completely custom looking WP themes easier. The framework is called a "Parent" theme, and the themes that developers make using that framework are called child themes.
A lot of really popular blogs like WPBeginner and Extraordinary Mommy use the Genesis framework. Notice how those sites look completely different, even though they're built off the same framework. That's what makes it so great.
Don't worry, you don't have to pay a developer or learn a bunch of code to use the StudioPress themes. They have a bunch of child themes that you can buy that include the Genesis framework with them. If you want a clean, modern layout for your blog, then there are some great options. And since you'll have the Genesis framework, if you ever decide you want a completely custom theme, you can have one built by a developer that's used to working with Genesis.
As for the pricing, it varies. You can expect to spend around $100 on average for a child theme + the Genesis framework. Or, you can buy their Pro Plus All-Theme Package for $399.95, which gives you access to all of the StudioPress themes.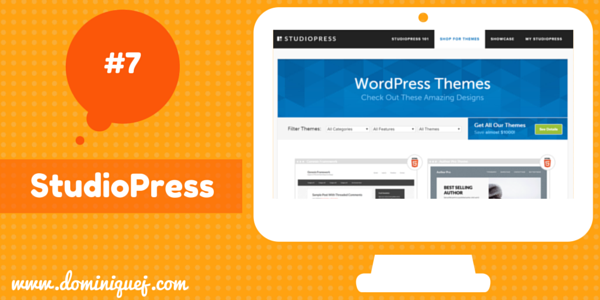 StudioPress is the choice for bloggers who: Want the freedom and customization that the Genesis framework offers, and want to explore child themes.
Pick Your Theme Yo!
I've personally used all of these sites for a theme at one point or another, so I know how great their themes are for bloggers. The hard part is finding the site, and theme that works for you. Take my recommendations, give the sites a good browsing, and make your choice. Don't spend more than a couple of days trying to find a theme for your blog though. If a week has gone by and you still can't decide on a theme, you're at the procrastination phase, and you're wasting time. The most important part of your blog is the content. I don't care how sexy your theme is. If your content sucks, your blog sucks.
What site did you get your blog's theme from? Let me know in the comments (no spamming though) or Tweet me!