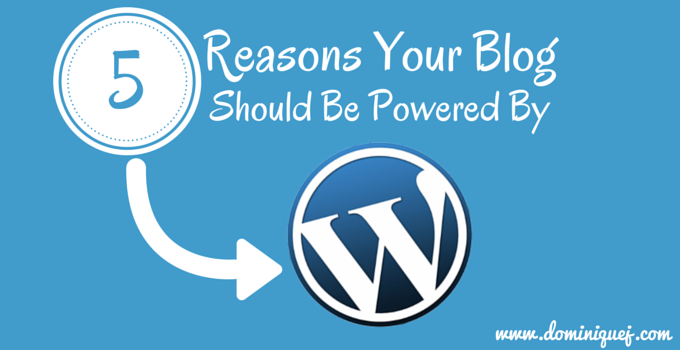 It's no secret that I use WordPress to power this blog, and every blog I've ever had. You've probably heard about WordPress all over the internet because it's just that awesome. There's a good chance that at least one of your favorite sites is one of the 70+ million sites powered by WordPress (even Facebook uses WordPress). Still not convinced that you should be using WordPress for your blog? Here's 5 undisputable reasons why you should use WordPress, besides the fact that I use it :).
1: It's Free
Using WordPress as a content management system is 100% free. In all honesty, they could easily get away with charging a fee for WordPress (as long as it's reasonable), but it continues to be offered for free for all of us bloggers to have our way with it. In fact, if it wasn't for WordPress, a lot of people probably wouldn't even attempt to start a blog and a lot of popular sites wouldn't exist.
2: It's constantly updated
With a lot of free software, it's rarely updated and nothing ever really changes. WordPress on the other hand, is consistently updated and there's always new features popping up. Not only do they keep adding new features, but they work to keep everything secure.
3: Huge support community
If you ever have any issues with WordPress at all, you'll have no problem finding someone who can help you with it. There's an extremely active support forum on WordPress.org, YouTube videos out the yin yang, and tons of WordPress related blogs like WPBeginner that have tons of great information to help you along the way. The help, just like WordPress, is absolutely free.
And for more complex problems, you can always outsource work to Fiverr or freelance sites. Basically, you don't have to stress about losing control of your site. Any problem is fixable one way or another.
4: Extremely easy to use
WordPress is such a simple and easy blogging platform to use that anyone can use it. Of course you can always get into the more "advanced" stuff by learning coding and more technical tricks, but for the purpose of blogging, you can pretty much just jump right in.
When I first started blogging, I had absolutely 0 knowledge of hosting, domain names, and had never even heard of WordPress. Within about a week, I had a lot of it nailed and now I can easily do everything I need to and can Google any problems I run into. I highly encourage you to just jump right in and get started and I guarantee you'll pick it up in no time. Feel free to tweet me or email me if you have any questions and I'd be glad to help.
5: Freedom
There are thousands of themes and plugins to use with WordPress so you can completely customize your site easily. Pretty much anything you want to do can be done with a little bit of knowledge and a desire to learn. Since WordPress is open source, there are no limitations to what you can do with it or your site. If you're looking for WordPress themes, I highly suggest MyThemeShop. You can use my special coupon code "Dominique" and get 50% off!
Why Aren't You Using WordPress Yet????
So there you have it. 5 reasons you should use WordPress for your blog. I can't stress enough how much I love WordPress and how helpful it's been to me and tons of other bloggers out there. What more can I say? Use it!