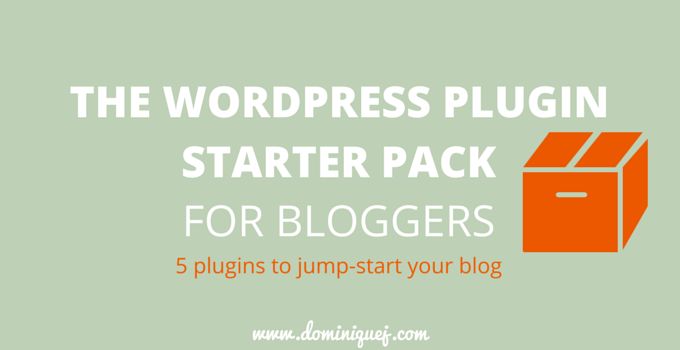 You finally decided you're ready to start blogging. You thought of a witty name, bought the domain name, installed WordPress, and picked out an awesome theme. Then you mosey on over to the Plugins section, and you have no idea wtf you're doing. Well my friend, that's what I'm here for.
WordPress plugins are one of the best things about using WordPress in the first place. But there are thousands of plugins to choose from, and a lot of them do the same thing. And then you start reading a bunch of "Top 50 WordPress Plugins" lists, so you get completely overwhelmed. 50 PLUGINS!?! Really? That's ridiculous. If your blog has 50 plugins installed on it, you done goofed.
In order to save your blog's load time, and simplify things for you, I've put together my list of the bare essential WordPress plugins for bloggers. Sure, there's other plugins that you can use if you want additional features. But if I had to start a new blog, and could only use 5 WordPress plugins, this is what I'd choose.
1. Yoast WordPress SEO Plugin
You won't find many lists of top WordPress plugins that don't mention the Yoast WordPress SEO Plugin. It's a must-have to improve your blog's SEO. It makes it easy for you to add meta titles and descriptions, avoid duplicate content problems, optimize your blog for social media, and a TON of other features that'll help your on-page SEO.
The features and setup can be a lot to take in if you're new to WordPress and SEO. Here's a great tutorial from the folks at WP Beginner to help you get it set up.
2. Akismet
Spam blog comments suck! And after a while, you're going to get VERY annoyed of logging into your WP dashboard and seeing 100 "comments awaiting moderation". Akismet is a plugin that combats a lot of the spammy comments your blog will get. Notice that I said a lot, not all. Every now and then a few comments will get through, but overall Akismet blocks a lot of the garbage.
Here's a screenshot of the spam they've blocked from my site in the past 6 months. The more your blog grows, the more spam comments you'll get. So you better save yourself some time and install Akismet from the get-go.

3. WP Optimize
I'll admit, I haven't taken all the steps I can to speed up my blog. I'm a work in progress, what can I say?
But one plugin that helps me, and that I've been using for years is WP Optimize. What WP Optimize does is clear your blog's database of all of files that you don't need. For instance, when you make new posts, WordPress creates revised copies every time you save your post. So you could end up having 10+ copies of the same post saved as revisions in your database. And if you have a ton of posts, then you can imagine how many extra files your database is storing. That means slower load times.
With the press of a button, WP Optimize clears out all of that junk, plus spam comments, trackbacks, pingbacks and more.
4. Jetpack
Jetpack is a suite of different plugins/apps. The reason I recommend it to bloggers is because it saves you from installing 50 different plugins. Some of the features you get with jetpack are:
Automatically share new posts across your social accounts
Add links to related posts underneath your posts
Add social sharing buttons to your posts
Protects your blog against brute login attempts (repeated attempts to login to your blog)
A ton of others
The awesome thing about Jetpack is that you get to choose which apps you want to enable or disable. It's especially good if your WordPress theme doesn't come built-in with some of these different features.
5. SumoMe
This is another suite of apps like Jetpack. The main benefit of SumoMe is its email list building features. I had it installed on this site for a little while, but eventually switched over to the WP Subscribe Pro plugin. As a blogger, building an email list is crucial, and the best long term marketing strategy you can have. Because Facebook, Twitter, and even your search rankings could all disappear tomorrow, but you own your email list.
SumoMe is awesome because it's free, and it's extremely flexible. You can have pop-up email subscribe boxes, notification bars, sidebar widgets, and pretty much put email subscribe boxes anywhere on your blog. Pretty sweet.
I also wrote about SumoMe in my 10 Awesome WordPress Plugins For Content Marketing post.
Your Pack Is Ready!
Those plugins are all you need. One plugin that I didn't mention that you should try to cram into your starter pack is Contact Form 7. The reason I didn't include it is because most themes come with a built-in contact form feature. But if your's doesn't, then you'll want to get Contact Form 7.
Like I said, you can add other plugins for any specific features you want for your blog, but these should be the first plugins you install on your blog. All of the plugins I mentioned are free. To install them on your blog, just log into your WordPress dashboard, and go to Plugins>Add New, and search for the name of any of the plugins I mentioned and they'll pop right up! Just install them, configure the settings and you're ready to go. Contact me if you need help setting up a plugin and I'll see if I can help.
What's in your WordPress plugin starter pack? Let me know in the comments or tweet me!