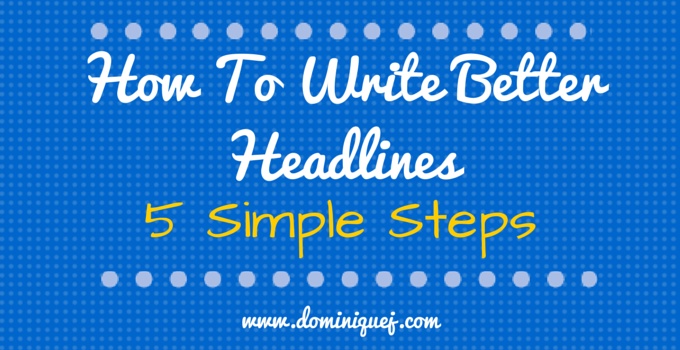 Did you know that on an average, 8 out of 10 people will read your headline copy, but only 2 out of 10 will continue to read the rest?
This stat itself establishes the fact that an eye catching headline is a must if you are trying to grab the attention of a casual browser and turn him/her into an avid reader. After all, your headline is the very first and perhaps the ONLY chance to make a first impression. Once the casual browser has moved on to the next headline in his/her Google search results page or social media feed, you've pretty much lost your chance to make any impression at all!
Now here's the thing, your content might be totally kick-ass, worth reading, chock full of relevant info, yaada yaada, but the casual browser will never come to know of it because he/she didn't bother to click on the headline. If your headline is unable to lure the reader into clicking through to read the rest of what you have to offer, your content would just be sitting there, unknown and unattended to.
So, without further adieu we can safely say that writing up a compelling headline is VERY important to get people to actually read what you have to say.
But are there any rules to be followed to make sure IT happens? (You know to get people to read the first sentence after the headline, the next sentence and so on…until the very end). Well yes, and no.
There are no strict rules per se because ultimately the decision to "click" or "not-to-click" rests with the reader. However, there are certain steps you can follow (you can refer to them as rules if you like) to write up that "killer",  "compelling" and "clickable" headline so that your content can truly serve it's purpose – which is to get read and shared by many.
Let's find out what those steps are.
1.Create a rough draft of your headline before you start working on your content
Most bloggers make the mistake of starting out with their content at first and then move on to creating the headline to match the written content. That is a false move. And it results in, more often than not, a poorly-crafted headline. Because in this case you are forced to think of your headline in terms of your content, not the other way around.
The best approach is to start with a "working title" – a rough draft of your headline before you jump onto working on your content.
A working title doesn't have to be perfect. It should reflect the basic but well thought out idea of what your blog post is going to be all about so that your content can follow a well structured pattern.
Let's look at an example to understand the concept of a working title.
Here is the title of a blog post that I recently worked on – 5 Creative Ways to Engage with your Facebook Fans and Start Conversations. Now, before I started working on my content, this is what I had in mind.
" I want to write a blog post on how businesses can engage with their Facebook fans – not just by sharing content from their websites or by posting updates about their business but rather in a more unique and creative manner so that their fans will actually want to interact with them via Facebook."
So, I crafted a working title called – Creative Ways to Engage with your Facebook Fans. Notice that, this is not my final title – I still haven't decided on "how many creative ways" I am going to talk about and I haven't added the "and start conversations" bit. But "creative ways to engage with your Facebook fans" gives me enough room and a clear idea on how to format my content based on the title.
2. Keep your headline accurate and to the point
Yes, agreed that writing a killer headline is the way to go! But at the same time it is important to set the right expectations and not play with your reader's trust. Your headline shouldn't make unrealistic claims. It should be "killer" and "accurate" at the same time.
So, if my headline reads – 5 Creative Ways to Engage with your Facebook Fans and Start Conversations, the content should provide exactly that or maybe more than that – but not less. 5 well written ways, with images and examples, a business can use to engage with it's Facebook fans and start conversations. Emphasis on the word CAN.
Now, if I had claimed in my headline something like – 5 Guaranteed Ways Used by Businesses to Engage with Facebook Fans and Start Conversations, it would have been misleading. Because guarantee is a very strong word to use! And my content does not "guarantee" any such claim. I am providing the info from my knowledge and expertise which you can apply towards your business if you like so that you may see better results.
So you see what I mean?
3. Play with different words to make your headline pop
Now that you have an accurate, working title, you can play with the words in your headline to make it more compelling and clickable.
Here are some examples;
Use strong positive or negative words to bring out the context of your headline. Going back to my earlier example,

5 Creative Ways to Engage with your Facebook Fans and Start Conversations

, I use the positive words "creative", "engage" and "start" to add more context to my headline. You can also tread the negative way. You might have seen popular blog headlines that being with – X things you shouldn't be doing…or X mistakes to avoid making on social media… etc. The thing to remember though is to use either in moderation. Too many positives or negatives packed together can make your headline sound too unbelievable.
Use alliterations in your headline to make it sound more fun and interesting. Take a look at these examples from HubSpot. "6 Company Blogs Everyone Will Enjoy Reading" does sound compelling, however the use of the word "Cool" before "Company" makes it sound even more fun and interesting. Everyone wants to know about cool stuff, right? Why would a casual reader want to be left out?
6 Cool Company Blogs Everyone Will Enjoy Reading
The Dangers of Discounting in B2B Sales
If you have something specific to share, such as a quantifiable number of reasons, types or ways, use that number in your headline to tell the reader exactly what they can expect. For example,

5 Creative Ways to Engage with your Facebook Fans and Start Conversations

 tells my readers exactly that. They expect to see 5 ways and nothing more nor less. In fact, a study conducted by Conductor reveals that "number headlines resonate 15% more than reader addressed headlines". See examples below.
Number headline – 5 Creative Ways to Engage with your Facebook Fans and Start Conversations.
Reader addressed headline – Creative Ways you can Use to Engage with your Facebook Fans and Start Conversations.
If your content is of a particular type such as an infographic, a slideshare presentation or an e-book, mention that in your headline for a clear definition of what the reader can expect. For example, the title – The Ultimate Guide to Using Hashtags on Social Media [Infographic] tells the reader exactly what it is, an infographic and not a textual blog post.
Research shows that posts with emotional headlines (specifically strong positive/happy emotions) get shared more on social media than all other types of headlines. Play with positive/happy words in your headline to make it more share worthy. The emotional value of a headline can be assessed by looking at it's EMV (Emotional Marketing Value) score. The higher the score, the more emotional your headline is. Typically,

most professional copywriters include 30% – 40% EMV words in their headlines.

Use this free tool called the Emotional Marketing Value Analyzer from Advanced Marketing Institute to calculate the EMV score of your headline to check if it will be able to strike a chord with your social audience.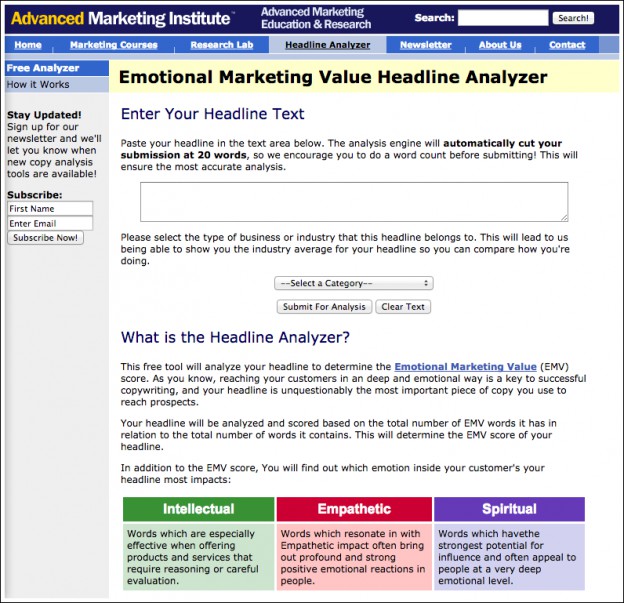 For example, when I tested the headline, "5 Creative Ways to Engage with your Facebook Fans and Start Conversations" using the tool, I received an EMV score of 33.33%.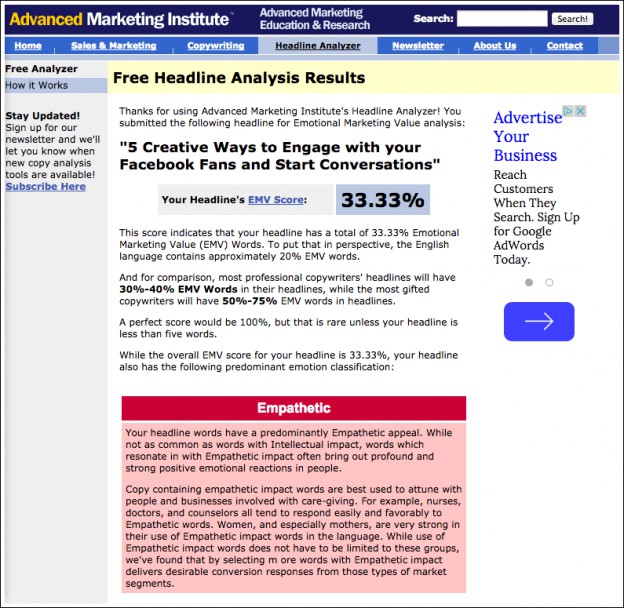 You can also use CoSchedule's free headline analyzer for a more comprehensive analysis of your headline. This nifty tool gives you an overall headline score plus breaks it all down for you in terms of your headline's word balance, type, length analysis, Google search preview, email subject line preview, keywords and sentiment.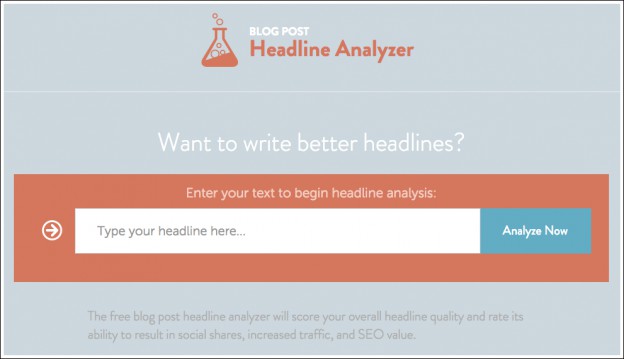 4. Try and see if you can include specific keywords to make your headline SEO friendly
Okay, so keywords in a headline are important from an SEO perspective. How else will your post secure a higher rank in search results if the relevant keywords are missing from the title itself? A valid question.
However, keywords are not the only thing you must be concerned about when trying to craft a suitable title for your blog post. If you merely stuff your headline with keywords whereas your content doesn't reflect anything of what you've mentioned in your headline, no one is going to read your post. People may click on the headline initially to get to your page, but once they discover that the headline has been misleading, they will promptly mover over to look for something more specific.
Bottomline, try to include keywords in your headline to see if you can make it more SEO friendly but don't lose your calm over it! Clarity, accuracy and positivity will make for a much a better headline than one which is merely SEO friendly.
If you do include keywords in your headline, try to accommodate them towards the beginning of your title so that people searching for relevant terms can notice them right away.
Plus, here's a bonus tip. Target the niche phrases when doing a keyword search to optimize your title. You will be able to reach a much more specific audience who are looking closely for what you have to offer.
5. Adjust the length of your headline depending on its purpose (blog post, social media, email etc.)
So, what really is the best headline length?
Is there such a magic number?
Well, to tell you the truth, there is no magic number which can seal the deal. Rather, it depends on what you want your headline to do – your headline's intrinsic purpose. You can adjust the length of your headline depending on it's purpose – whether you want it to show up accurately in search engine results, on social media or email.
The ideal headline length for a blog post is 65 – 70 characters if you want most of your headline to show up in search engine results.
For social media, it varies depending on the network. Below is a quick guide.
Facebook:

 40 characters

Twitter:

 71 – 100 characters

Google+:

 60 characters

LinkedIn:

 80 – 120 characters
For a complete guide on the optimal headline lengths for all the social networks, check out this post by Buffer.
For email, the best headline length is between 20 – 50 characters.
The final word on the best headline length? Try and test various lengths and word combinations to see what works for you – what resonates with your audience.
As I mentioned before, keeping the most important words or keywords towards the beginning of your title maybe one way to go if your title is hinging towards the longer side and there is a higher chance of it getting truncated in the search engine results or email.
So that's pretty much it! These 5 simple steps should make your headline crafting task a lot easier.
I'm going to end with a final thought from the advertising legend David Ogilvy,
"On the average, five times as many people read the headline as read the body copy. When you have written your headline, you have spent eighty cents out of your dollar."
Your turn! What did you think about these tips? Do you use any other tools to help you with creating better headlines? Let me know in the comments below.
Author bio:
Priyanka Biswas is a Social Media Marketer and a Software Engineer. She is the founder and owner of Social Media with Priyanka, a website which teaches small/medium businesses, bloggers and entrepreneurs about Social Media and Content Marketing in very simple terms. She is also a part of the Digital and Social Media Marketing team at Yogi Times. Her off-work interests include traveling and trying new cuisines. Follow her on Twitter @socialmediawpb.