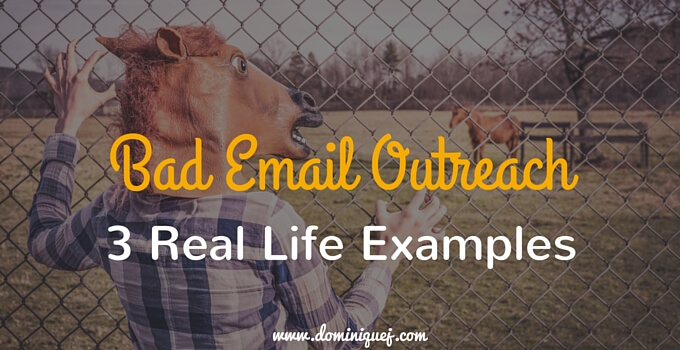 I get emails every week from people and businesses asking me for guest post spots or to do product reviews. A majority of the time I ignore them or just reply like this because they're clearly automated messages sent out to hundreds if not thousands of other people. Instead of just putting all of these emails in the trash, I decided to use them as a way to show you how you shouldn't do email outreach.
The reason I decided to do this post is because I've seen several blog posts and courses supposedly teaching you how to do email outreach. Unfortunately, a lot of these guides revolve around heavy automation. So the end result is completely generic unpersonalized emails.
Their "technique" is basically to send the same email to as many people as possible and hope that a small percentage of the recipients reply. That's the wrong approach, and something I've been trying desperately to get people to stop doing for a while now. Unfortunately, it has become human nature to try to find the easiest/quickest way to do things, especially when it comes to online marketing.
If your goal is to keep sending out mass emails and pray someone responds, then by all means keep on doing that. But if you want to build relationships and have people actually read  your emails, then read on.
Example 1: "Contributor Request"
The first problem here is it's incredibly generic.
"I found many useful articles published on your site."
He should have mentioned the specific posts he found useful and what he liked about them. That way, I would know that he actually read my content and isn't just shooting out a mass email.
Second, this email is not specific to my blog or audience. He says he writes about online businesses and entrepreneurship, but my site is primarily about blogging and content marketing. A better approach would have been to say he writes about these subjects, and then personalize it for my site.
Basically, his email isn't targeted towards me at all and could easily be meant for any site that has content about online marketing.
Example 2: "Review [PRODUCT NAME]"
Most people would jump at the opportunity to try out premium software, so I have no doubt that the company was able to attract a lot of reviewers. However, they probably could've gotten more interest if they had taken the time to send out more personalized emails.
Aside from the obvious signs that this was a mass email like the fact they included a link to my About page instead of my home page, one of the biggest problems was that this company sent me the exact same email a week prior to receiving this one. The only difference is that instead of including a link to my About me page, they linked to my content marketing tools post. Fail.
Here's how they could've made this email more effective. I have a couple of blog posts that mention products similar to theirs. They could've mentioned those specific posts and said that they thought I would like to give their tool a try since it's similar. Again, personalization is key.
Example 3: "Interested to contribute Guest article"
I don't even know where to start. At least the first two examples mentioned my name in their emails. Granted, it's probably because they were using a tool that automatically entered it, but at least it was there. With this one, there's no personalization whatsoever. It doesn't mention what topics they write about, why they're interested in my blog, or if they even know what my site is about.
Here's a golden tip for email outreach that I want to stress. If the email that you're sending to one site can be directly copied, pasted and sent to another site, then it's too generic.
For instance, let's say I was someone who wanted to guest post on this site. I might send an email that looks something like this.
That email is very personalized. Someone wouldn't be able to copy and paste that email and send it to Problogger to pitch them as well. That's what makes an awesome email outreach campaign.
Here are some quick tips for crafting your emails:
Stroke their ego a bit in the beginning, but don't overdo it. Notice how my email started off with acknowledging that I've read the blog and gave a compliment. I even pointed out specific things I've learned from reading the blog. Just be careful not to look like a complete suck up.
Be direct with what you want. In the example, I didn't beat around the bush. I made it clear that I was interested in guest posting.
Mention something from the blog. The easiest way to do this is to mention something from within one of their popular blog posts like the Buzzsumo reference in my example.
Add a personal touch. On my site's About page, I mention that I like Madden. So in the example email, I included the little bit about Madden at the end. You don't want to get too personal though. Don't go through their personal Facebook page to look for the high school they went to. Be thoughtful, not creepy!
Keep it casual. The tone of your email should be pretty casual in most cases. You're not writing a business proposal here. You can gauge the blogger's personality from their writing. For instance, I write with a very informal and casual tone on my site. So it makes sense to email me with a conversational style.
State why you want to post on their blog. Why would you be a good fit for their blog, and what made you want to choose them? In my example, I mentioned how I have a similar writing style.
I know what some of you might be thinking. Doing outreach this way will take so much longer!! It absolutely will. But here's why it's better to do manual outreach instead of sending generic automated emails:
You'll get a higher success rate.
You'll have a better chance of having your emails land in the inbox rather than the SPAM folder.
Even if you don't get a guest post from them now, you're building a relationship.
You won't be annoying the heck out of people.
When you start to reach out to larger and more established bloggers, you need to be able to differentiate yourself. With manual outreach, your emails are going to be completely different from the hundreds of other pitches popular bloggers receive.
If you've been taking the automated approach to email outreach, give this technique a try. Trust me, you won't regret it.