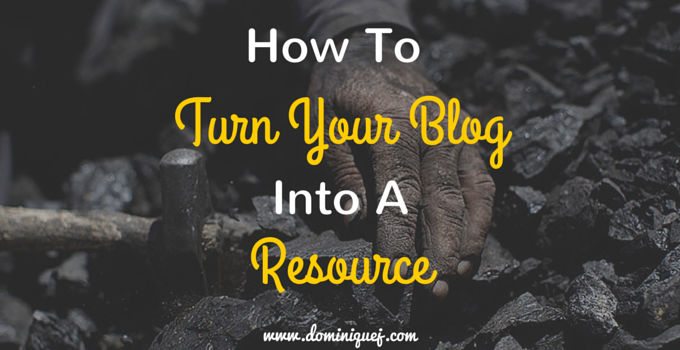 If you really want to dominate blogging and become one of the top sites in your industry/niche, at some point you're going to transition from just another blog, into a resource. When you look at popular blogs like Nerd Fitness, Quick Sprout, Social Media Examiner or Rebekah Radice, you'll notice that they're more than just helpful blogs. They're industry resources.
What Is A Resource?
When I say resource, I'm talking about a steady supply of knowledge for almost any topic within an industry or niche. When you go to a resource, you're able to learn everything you need to about that industry even if you're completely new to it.
For instance, Nerd Fitness is a resource for fitness and nutrition. If you're trying to lose weight, eat better, and get fit, everything you'd need to know can be found on their site. Whether it's how to eat properly, different workouts, or even shifting your mentality to a more health conscious one.
Same thing with Quick Sprout. If you want to learn about SEO, everything you'd need to know can be found on Neil's blog. Whether you're talking about on-page optimization, building links, using social media for SEO, or anything in between.
If your goal is to build a social media strategy, all you have to do is read through Rebekah Radice's blog and you'll be able to put a complete strategy together from scratch. Because she's made her blog into and awesome resource. Similarly, Social Media Examiner is a resource for overall social media marketing.
Not only are all of these sites authorities within their industries, but their sites are jam packed with all the content you'd need if you were interested in going from a complete newbie to a pro in fitness, SEO, or social media marketing.
Why Should You Want Your Blog To Be A Resource?
For one, having your blog be seen as an industry resource puts you ahead of your competition. There are A LOT of fitness blogs out there, but Nerd Fitness is one of the most well known and respected sites because their content is great, and they cover all aspects of fitness that you'd need to know. So instead of having to go to 5 different blogs for information, you can find it all from one.
Secondly, SEO. Google loves sites that have a lot of relevant and useful content. And that's exactly what resource blogs are all about. Since they contain so much content that's related to an industry, Google sees the site as a whole to be relevant for searches related to that industry.
Have you ever noticed that when you Google topics that are related, but not identical, the search results usually contain a lot of the same sites? It's not a coincidence.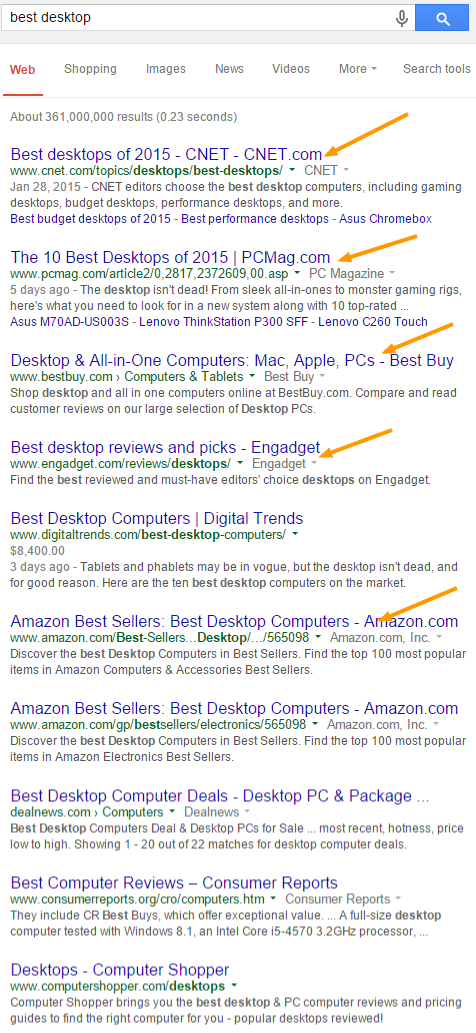 After a while, Google is able to see that certain sites are resources for information within an industry because of:
The site's backlink profile
The content within the page
Common words mentioned in relation to the site
The more that you're able to grow your blog into an industry resource, the easier it'll be for your site to rank highly for industry related terms in Google, and then get more organic traffic as a result.
The Elements Of A Resource Blog
So the next question is, what makes a blog an industry resource? There's no single answer here, but after looking through a ton of different blogs, I started to take notice of some of the things they have in common. It probably won't be too much of a surprise, but they all tend to have:
A lot of related content
Internal links
Ultimate guides/in depth posts
Some "me-too" blog posts
Links from other sites within their industry
Communities
Branding
There's other similarities, like most of them sell some type or product or service and they've been around for a while. But I want to specifically focus on the points I mentioned above, because they're all things that you can start doing on your blog right now to grow it into a resource.
Related Content & Internal Linking
I've touched on the importance of internal linking before, and even gave you some techniques for how to add internal links in WordPress. When you're growing your blog to become an industry resource, you need to create content that's related to each other, and build internal links within your blog posts to that related content. Aside from my own blog (yup, I just complimented myself), one of the best bloggers that uses internal links on her site is Rebekah Radice.
Here's an example: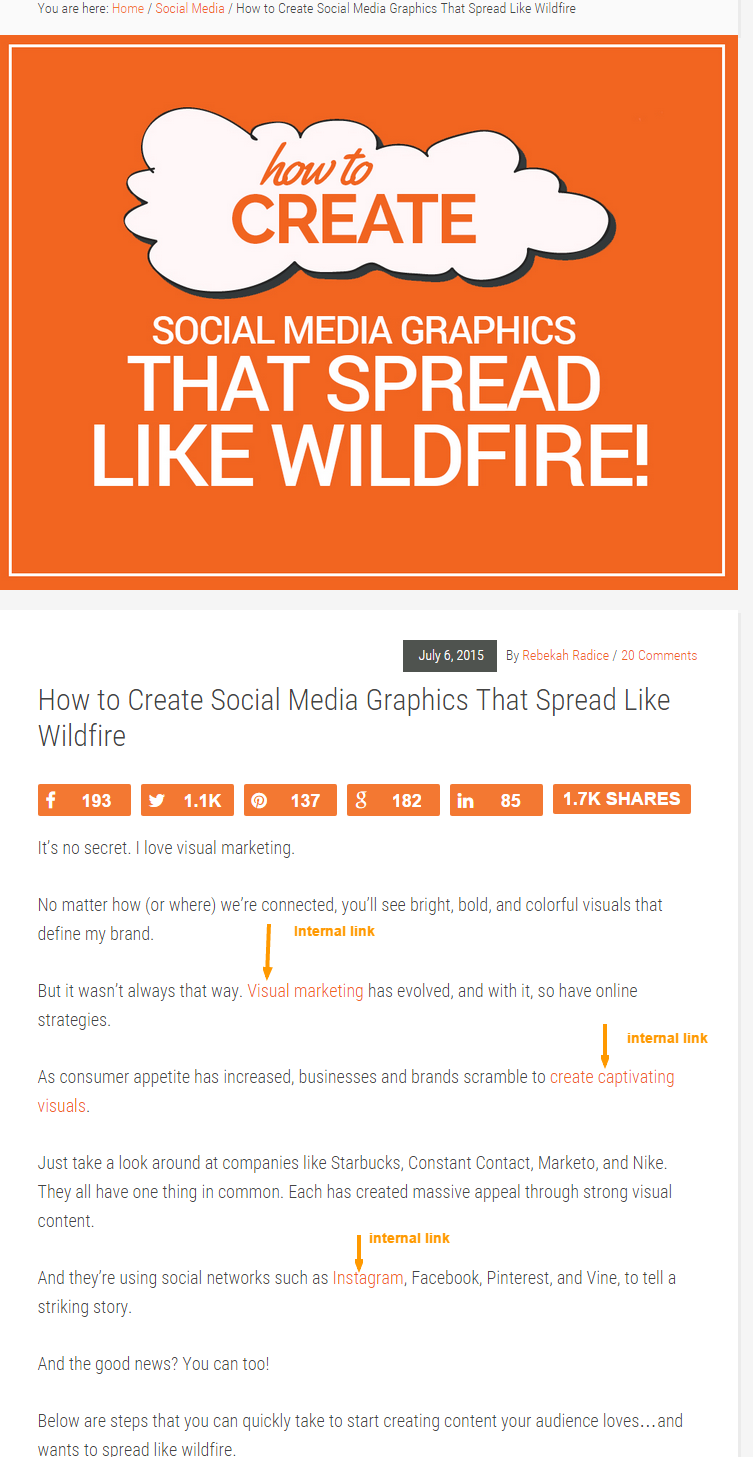 Those are 3 internal links within the very first part of the post. If you read through the entire article, there's plenty more. But here's the important thing to take note of, all of the internal links are relevant. Rebekah isn't just adding internal links for the hell of it. She does it when she wants to link back to a post that's related to what she's talking about.
On top of that, she also has plenty of external links to other resources outside of just her own blog.
In order to be able to build related links like this, you have to have blog posts that relate to each other. That starts with creating content with a more strategic approach. It might be helpful for you to make a content/editorial calendar. That way, you can plan out specific blog posts that will be related to each other, so that you can interlink them once they're published.
What I tend to do a lot is go back through my old posts, look at some of the points I mention, and then use those ideas to create new blog posts. After I make the new content, I go back to the old post and insert a link to the supporting post I just created.
That's exactly what I did in my post about growing my blog's organic traffic 350% in 30 days. In that post I mentioned internal linking. So I made a follow up post about how to add internal links in WordPress, then went back and inserted a link to that post within the organic traffic one.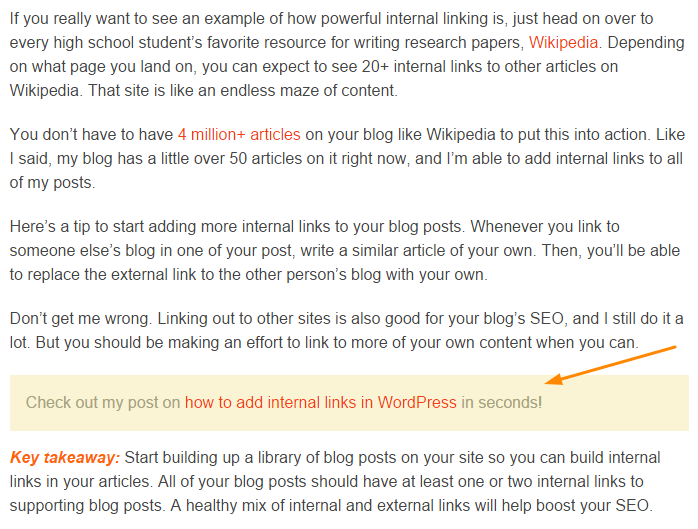 Start right now by going through your old posts, and look for opportunities to create new content based on what you wrote. After you create your new post, go back and add a link to it in the old post.
Ultimate Guide Posts
Most of you know that I'm not one of those "every post has to be x,xxx words long" bloggers. As long as your content is high quality and gets your point across, that's what's most important. However, it's impossible to ignore the fact that a lot of the top resource blogs use a lot of longer, comprehensive, "ultimate guide" types of posts.
What better example to give for this than the king of the ultimate guide posts, Neil Patel on Quick Sprout. Neil has an entire section in his sidebar dedicated to some of his most popular guide posts.
And those posts have the most social shares on his site: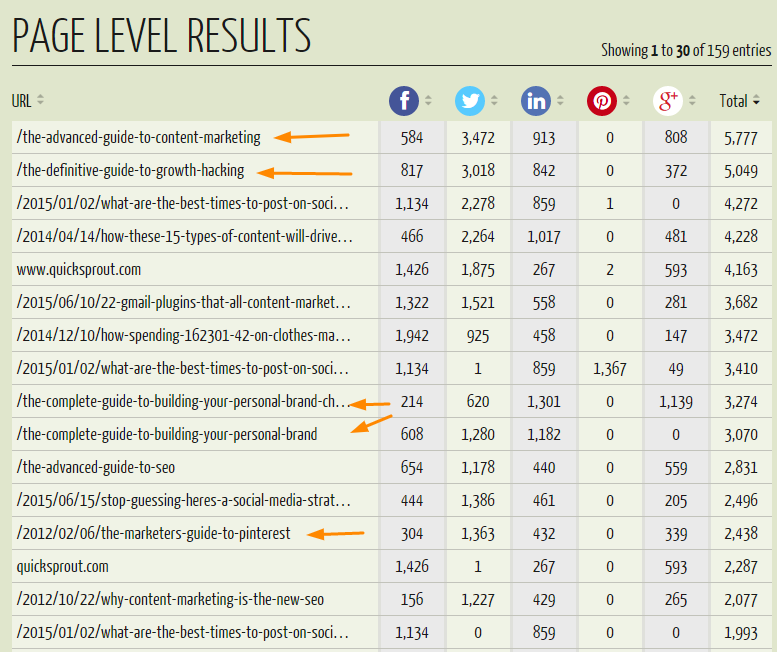 Ultimate guide posts work well because they give you all of the information you need on a particular topic all in one place. They're resourceful.
I've done plenty of "how to" posts on my site that have been successful, and I've been pushing to create more "Ultimate Guides" for you all, because they offer a lot of value. Here's some of my ultimate guide posts I've done recently:
Ultimate Guide To Optimizing Images For Your Blog
Ultimate Guide To Setting Up MailChimp on WordPress
Ultimate Guide To Dominating Social Video Marketing (on Sprout Social)
Ultimate Guide To Measuring Social Media ROI (on Sprout Social)
You'll notice that these are all resource posts. Anyone looking for information on how to optimize images for their blog posts can check my post and get all the info they need. You don't have to go to one post to find out how to resize images, and another to figure out how to do SEO for your blog's images. It's all in one post.
If you want to measure your social media ROI, all you have to do is go to my post on Sprout Social. It's a one-stop-shop.
Here's some tips for creating ultimate guides:
Layout your posts first, don't just start writing
Have a lot of resources you can link to ready to go
Use images
Make the post as comprehensive as possible
Make the title "Ultimate guide to…" or "Definitive guide to…"
Generally these posts are 2,000+ words long (but there's no real rules for this)
Organization is key! Seperate the different steps/sections with headings
Make sure your post is visually appealing (no walls of text!)
Me-Too Blog Posts
Me-too blog posts are the ones that every blogger in your industry or niche does. For instance, my blogging mistakes to avoid post is an example of me-too content. Pretty much every blog about blogging tips has a post similar to that one. Or all of the "best foods to burn belly fat" posts on fitness sites. What happens as a blogger is you see how popular they are, and think to yourself, I should make a post like that too.
Usually when people talk about me-too content, it's in a negative light. Most posts are about how to avoid creating me-too content. The reality is that it's impossible to avoid. Pretty much every tip on blogging, fitness, relationships, pottery, or any other niche you can think of, has been given in a blog post at some point.
But here's why I say you need some of these posts. For one, they're popular for a reason. People like reading about them. I don't care how many posts there are about easy weight loss tips, people will always be willing to read a new one. Second, they add to the overall relevancy of your blog. Since you're building your blog into a resource, you want to make sure you're covering all your bases.
If every other blog in your industry is talking the best laptops for students, or the top 10 ways to save money, and you aren't, then your blog might seem a little less relevant overall. To be clear, I'm not saying that not blogging about popular topics in your industry will automatically harm your SEO. What I'm saying is that blogging about popular topics in your industry might help it be seen as more relevant in the eyes of Google, and subsequently improve your SEO.
The trick is to cover popular topics in a way that's different. Whether it's injecting your own personality, adding a fun twist on it, or straight up making your post better than whatever else is out, you have to try to differentiate your post about the "top 10 whatever" from everyone else.
Here's an example. There are A TON of posts about where to find free images for your blog, and most of them list the same sites. But Canva decided to make a more comprehensive post with over 70 sites to get free images for blogging. They turned what could've been just a standard me-too post into a valuable resource, worthy of being shared and saved. By having so many different sites listed, there's really no reason for people to go to a competitor's site because Canva's resource has it all.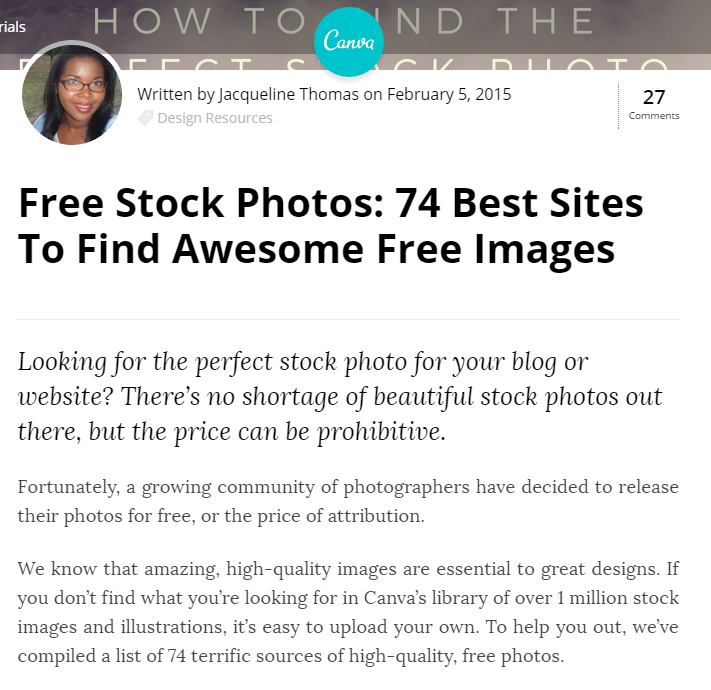 But then check this out. On the Hubspot blog, they created a post about a similar topic, but put a different twist on it. Instead of just listing sites that have free images, they went out and hired a photographer to take A LOT of images (over 550), that they're letting anyone use for free. A similar topic, but done in a way that's unique.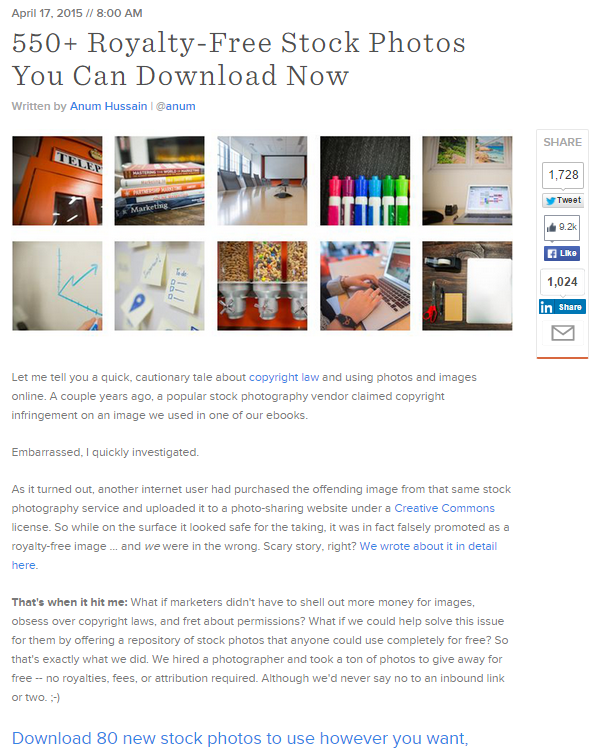 Your blog shouldn't be filled with all me-too posts though. Ideally, you should have a healthy mix of both me-too topics (done correctly) and original posts like case studies, your insights/opinions, etc.
Links From Related Sites
This section needs it's own blog post. Getting links to your site from other relevant blogs is very important for SEO and overall traffic generation. Not only that, but it's really how most of these industry resource blogs become seen as resources and authorities in the first place.
When your blog keeps being mentioned on related sites, eventually people are going to start to take notice. Not only will people take notice, but so will search engines. A business site that gets links from Inc, Entrepreneur, and Forbes is going to start to be seen as a very relevant and important resource in the business industry.
Here's the most comprehensive guide on how to get backlinks that you'll find online. I have that post bookmarked, and I highly recommend you do the same. But in general, the easiest way to start getting relevant links to your blog is to:
Create content worth linking to
Network with other bloggers in your industry
If you can do those two things, over time the links will start to come naturally.
My strategy for this blog so far has been to build up my content A LOT, and then start to worry about getting links. I know that I'll be able to get links back to my site, so it's not a huge concern for me right now. I've done some networking and outreach, but it hasn't been my focus so far, because I knew that I wanted to focus on content creation.
Later on this year, I'll shift my focus to getting more links to my site, since I'll have a big ass supply of content that's worth linking too.
Here's some other good resources on how to get links for your blog.
I'm sure you can tell, there's a lot of different strategies out there. As a content marketer, I always recommend doing things that center around creating content, and then marketing that content to the right people. Try different strategies and find what works for you.
Communities & Branding
I linked these two together because, well, they're closely related. When I look at different blogs that have become huge resources, they all have some sort of community and they're pretty well branded. There's no better example of this than Nerd Fitness.
I've talked about it before in this case study, but Nerd Fitness has a large, dedicated community of people that love the Nerd Fitness brand. They have an active forum (which is EXTREMELY difficult to pull off), and even a camp!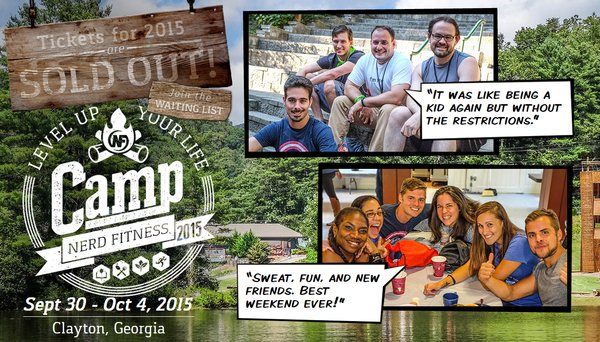 Here's why branding and building a community are so important for turning your blog into a resource. You need people to recommend your site, and "talk it up".
It's like popular restaurants. Even if their food is amazing, if nobody's talking about it then they'll just fly under the radar. But when they start getting reviews on Yelp and Google, all of a sudden they're not just another Thai restaurant. They're THE go-to Thai restaurant to when you want the best Thai food in that city.
The same thing goes for blogging. When you look at Nerd Fitness, it was the community of people that found the content on their site useful, and told people about it, that made it become so popular. And the site realizes this, so they make sure to highlight their community with their success stories posts.
Whether it's people tweeting links to a post they found, talking about it on Facebook, emailing a link to coworkers, or just mentioning it in conversation, the more people are recommending your blog, the more it'll be looked at as a go-to resource.
Become More Than A Blog, Be A Resource
Every blog isn't going to be a huge resource like Social Media Examiner, Quick Sprout, or the other sites I mentioned. But if your goal is to create a business and brand from your blog, then becoming a resource is the way to go. Content is the driving force for marketing right now, and positioning your blog as the go-to source for content in your industry is going to make the difference between you and your competitors.
What are your thoughts on turning your blog into a resource? Let me know in the comments or tweet me!