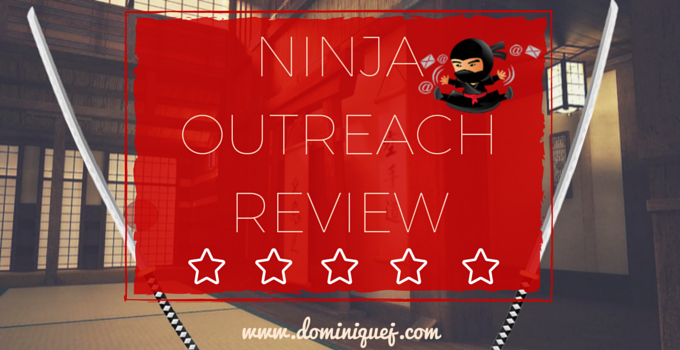 Is Ninja Outreach The Ultimate Influencer Marketing & Blogger Outreach Tool?
In order to be successful with blogging and content marketing, you need to build relationships. You need to get to know influencers and the movers and shakers in your industry. Building these connections opens you up to guest blogging opportunities, more social shares, and creating a network of people that will help you grow your authority. The technical term for this is influencer marketing, or blogger outreach.
Obviously, the next logical question is how do you get started? Well my fellow bloggers and content marketing peeps, that's what this post is all about. I'm going to be reviewing a new tool that makes it quicker and easier to find prospects, organize them into lists, and reach out to them. So sit back, relax and take in all the awesomeness of this Ninja Outreach review!
What Is Ninja Outreach?
Ninja Outreach is a piece of software used for influencer marketing. It lets you search for different bloggers and influencers based on different search phrases, then organize them into lists, and ultimately shoot out emails using templates you can build within the software.
The main premise of the software is that it helps you get rid of using Excel spreadsheets, separate CRM software, and 5 different tools in order to manage outreach campaigns. Instead, Ninja Outreach lets you do everything within a single tool.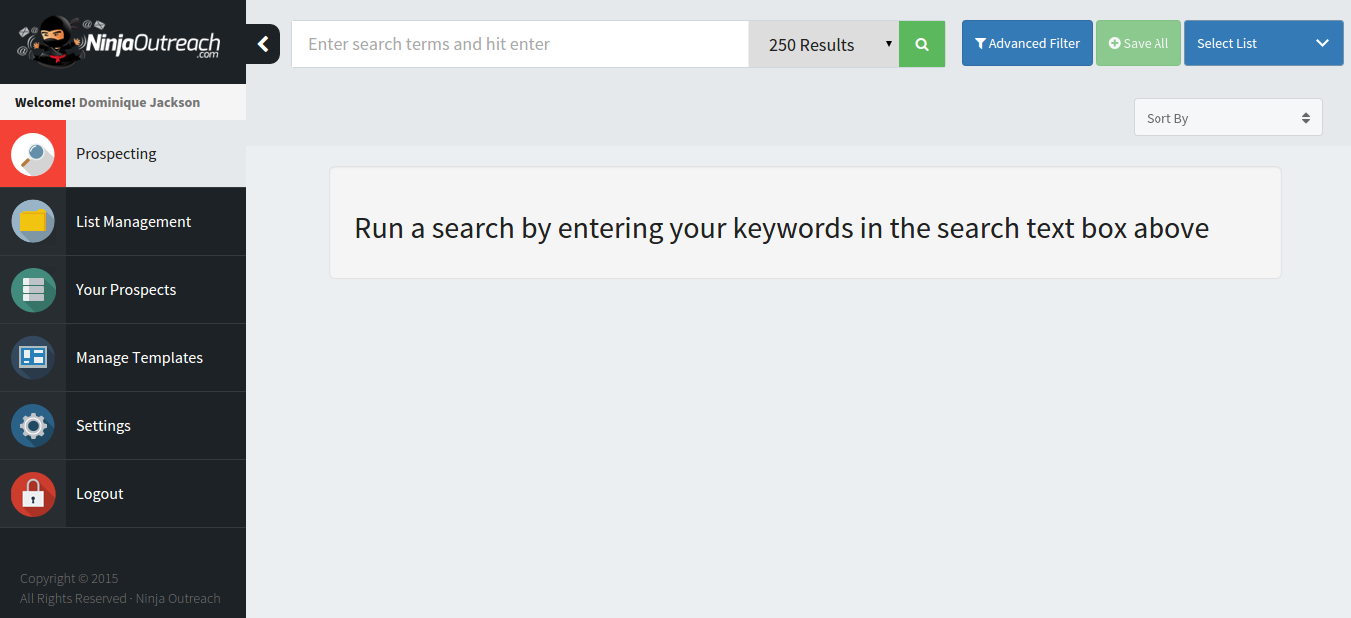 How Ninja Outreach Works
Now that you know what Ninja Outreach is, let's start to get into the nuts and bolts of this blogger outreach tool to see how it works. Again, I'm reviewing the web app, which is currently in beta testing mode. They have a fully operational desktop app, but I haven't tried it because I prefer using cloud software, and my current laptop runs EXTREMELY slow so I just use my Chromebook instead (/mini rant).
But moving on.
There are 4 main features/sections of Ninja Outreach, and I'll break down each one below:
Prospecting – find bloggers and influencers
List Management – organize your prospects into separate lists
Your Prospects – see a full list of all your prospects and send them messages
Manage Templates – create email templates to make the outreach part quicker and easier
Prospecting
This is where you'll probably spend a large chunk of your time in Ninja Outreach. The prospecting tool lets you search for different influencers and bloggers. Like you'll see in the screenshot below, there are a good number of different filters you can use to narrow down your search like number of social media shares, domain authority, page authority, Klout score, etc.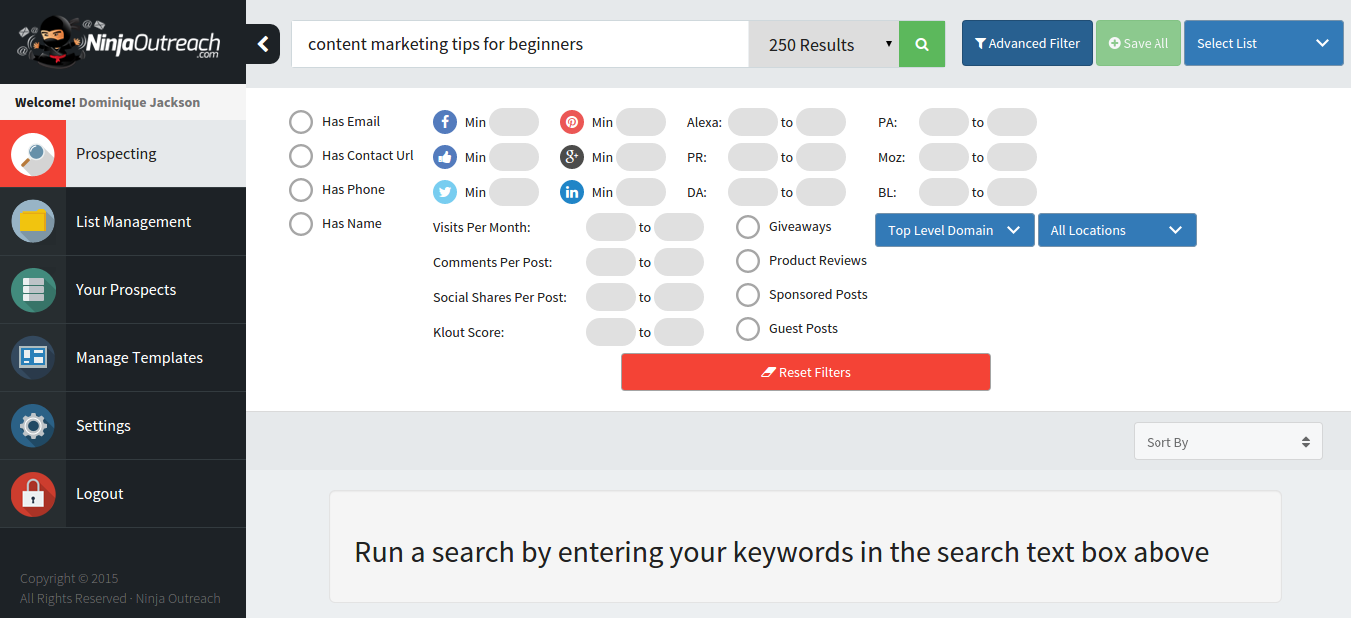 A quick note about the filters and the way the search works. When you search, Ninja Outreach is pulling data on the sites, not the authors. For instance, if one of the results is for a guest blog post written by me on SEMrush, all of the data you see like the contact info, social shares, and SEO metrics would refer to the SEMrush website, not my personal social profiles.
Let's look at an example. Here's a search I did for "content marketing tips for beginners".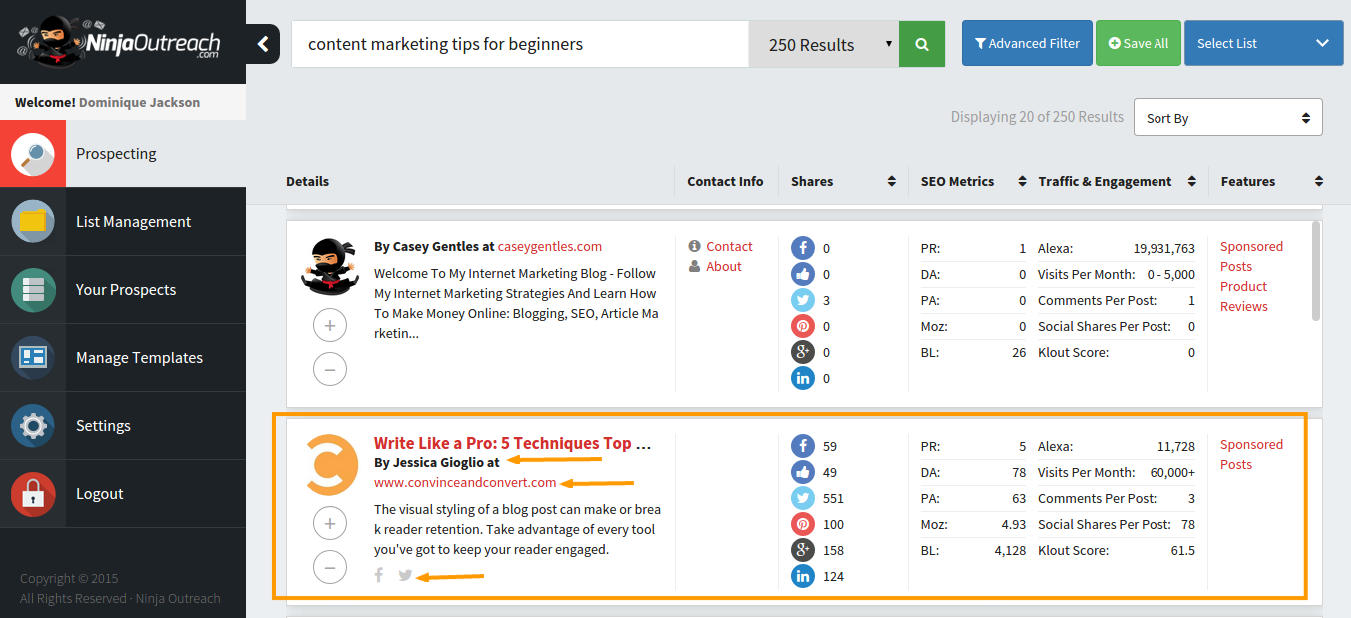 Here's what you're looking at column to column (left to right) of the result outlined in orange:
Details: The title of the page that's pulled up. Ninja Outreach pulls both individual blog posts and even home pages. If it's a blog post like this one, it'll show the author name, the domain name, the meta description, and social icons.
Contact info: A link to the site's contact us page or about us page.
Shares: How many social shares that page has.
SEO metrics: Different metrics like PageRank (which is useless), domain authority, domain authority, MozRank, number of backlinks, etc.
Features: If the site offers guest posts, sponsored posts, giveaways, and product reviews, you'll find a link to it here, but it doesn't seem to work so well, but more on that later.
You can filter your search based on all of these different factors. For instance, if you only want to see results that have the author's name, you can check the filter. Or if you only want to see pages that have X amount of shares on Twitter, you can enter that number in the minimum box.
I've noticed that you get much better results with long tail, detailed searches than you do with generic ones. For instance, search for "content marketing tips for beginners" instead of "content marketing". The reason I recommend going this route is because the broad searches tend to give you links to home pages and huge sites. Whereas long tail searches tend to have individual blog posts in the results, and smaller sites that are easier to reach out to. And the results are just a lot more targeted when you start getting specific with what you're searching.
After you get your list of results, you'll want to start adding them to a list. When you want to add a single person, or all of the people in the results to a list, you can do that by hitting the "+" icon or the "save all" button to add them all to a list.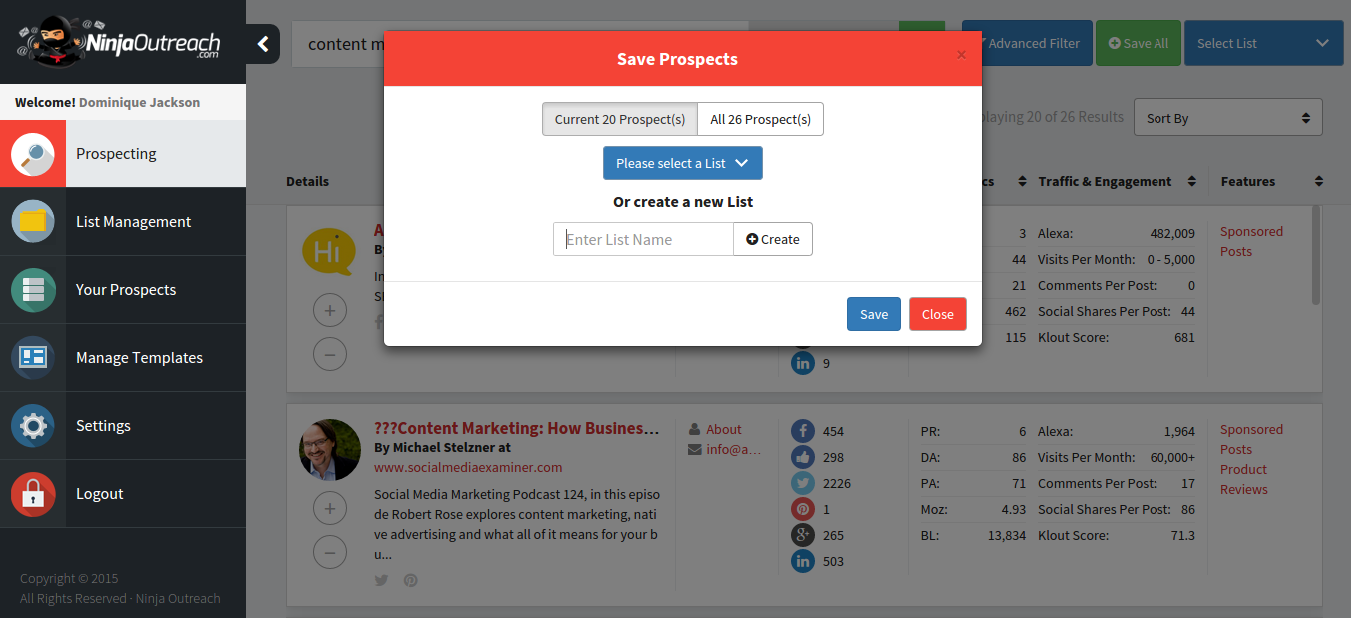 You can manage your different lists in the lists management section.
List Management
Not a whole lot going on in this section honestly. It's basically where you can create new lists or edit existing ones. One nice feature is the ability to export the people within the list to an Excel spreadsheet. But other than that, it's pretty straightforward.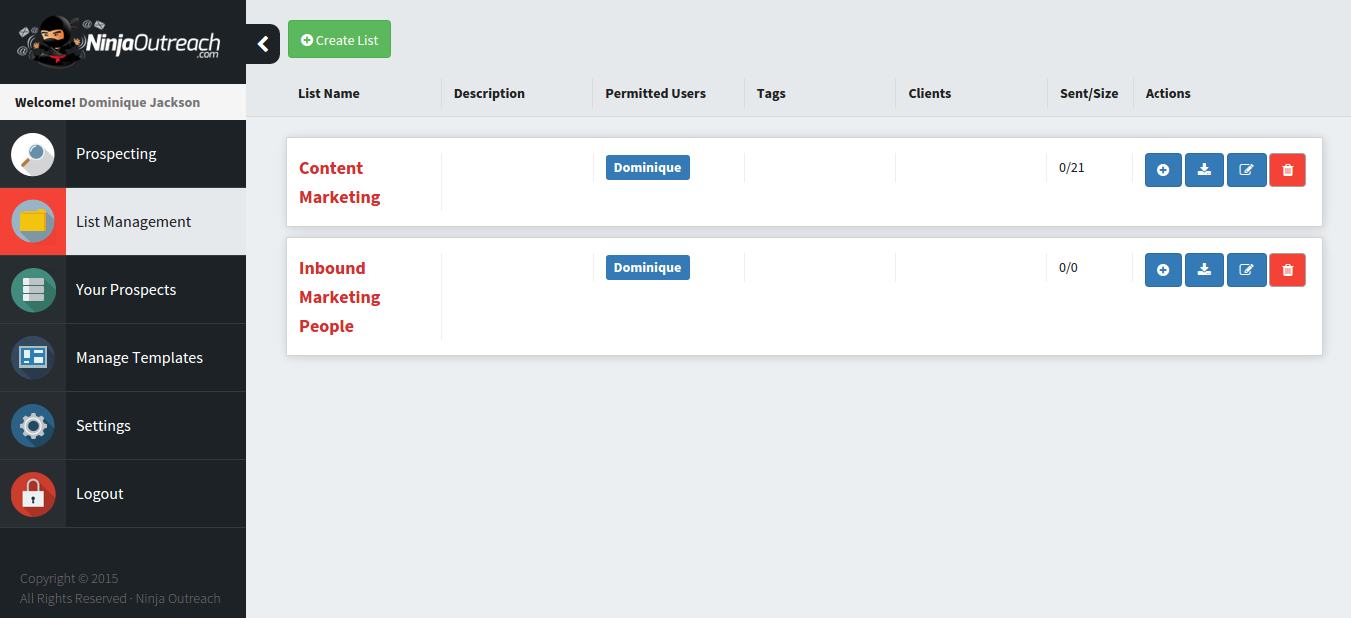 When you click on a list name, it'll take you to the next section, which is "Your Prospects".
Your Prospects
In this section, you'll get a full overview of all of the prospects you have in any given list.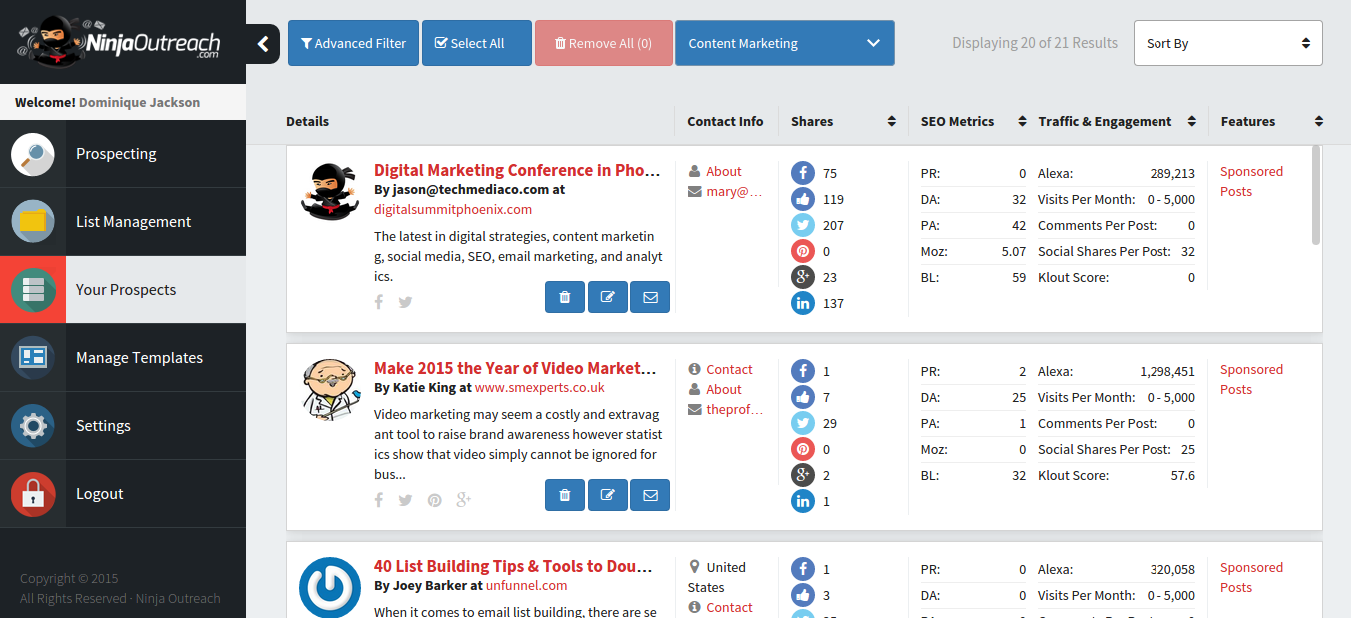 The screen basically looks the same as the "Prospecting" dashboard. The difference is that on this screen, you have the ability to edit the prospects, and contact them with those 3 blue icons you see.
When you click on the email icon, a little screen pops up that lets you either create a message from scratch, or use a preset template that you create under the management templates section.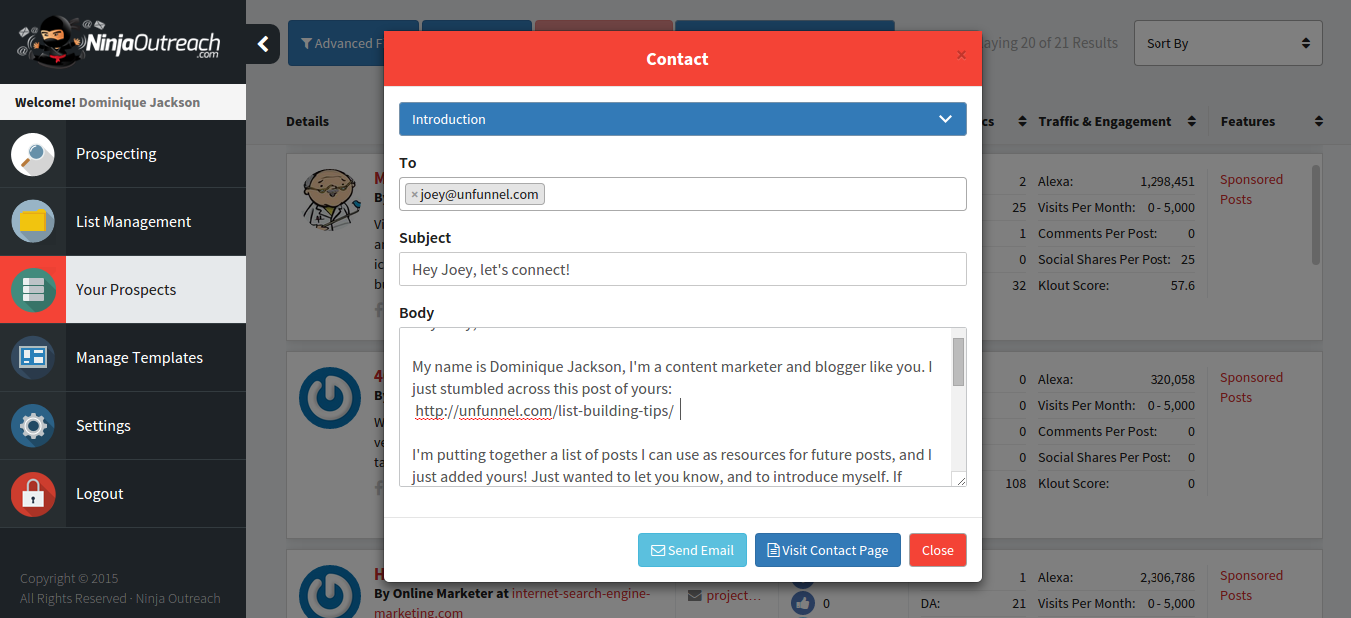 In this example, I used a template I created called "Introduction". You have the ability to customize your message however you want before sending it out.
When I clicked on "Send Email", a new Gmail window opened up, pre-populated with all the info you see on the screenshot above. And that's how the messages actually get sent. I use Google Chrome, so I'm assuming that's why it launched the Gmail app. I'm not sure how this feature works with Firefox, Internet Explorer (why would you still be using IE?), or other browsers. In the desktop version of Ninja Outreach, all of your emails are sent from within the tool. I'm hoping that they'll be able to do something similar with the web app.
Manage Templates
The manage templates section is one of the most important features of Ninja Outreach. This is where you can create email templates like the one I used in the screenshot above, and save them to use over and over again.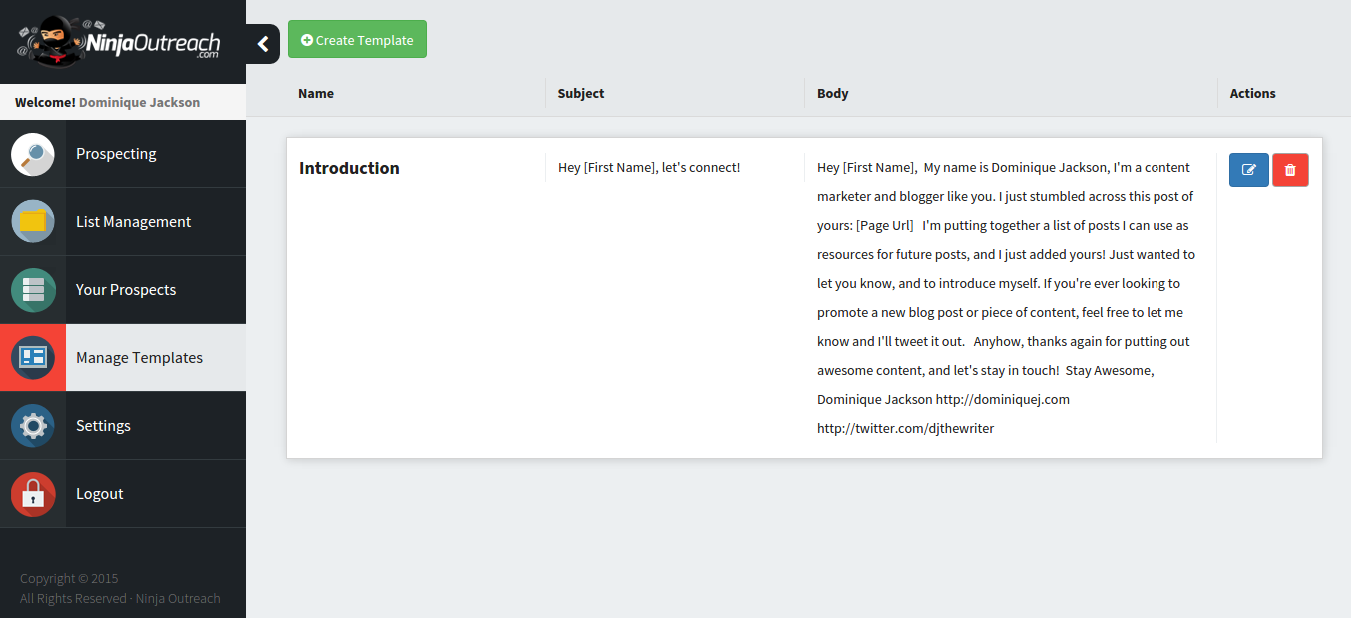 In that screenshot, you can see the first template I created. If you click on the green "Create Template" button that you see at the top, you'll be able to create a new template. Here's what it looks like.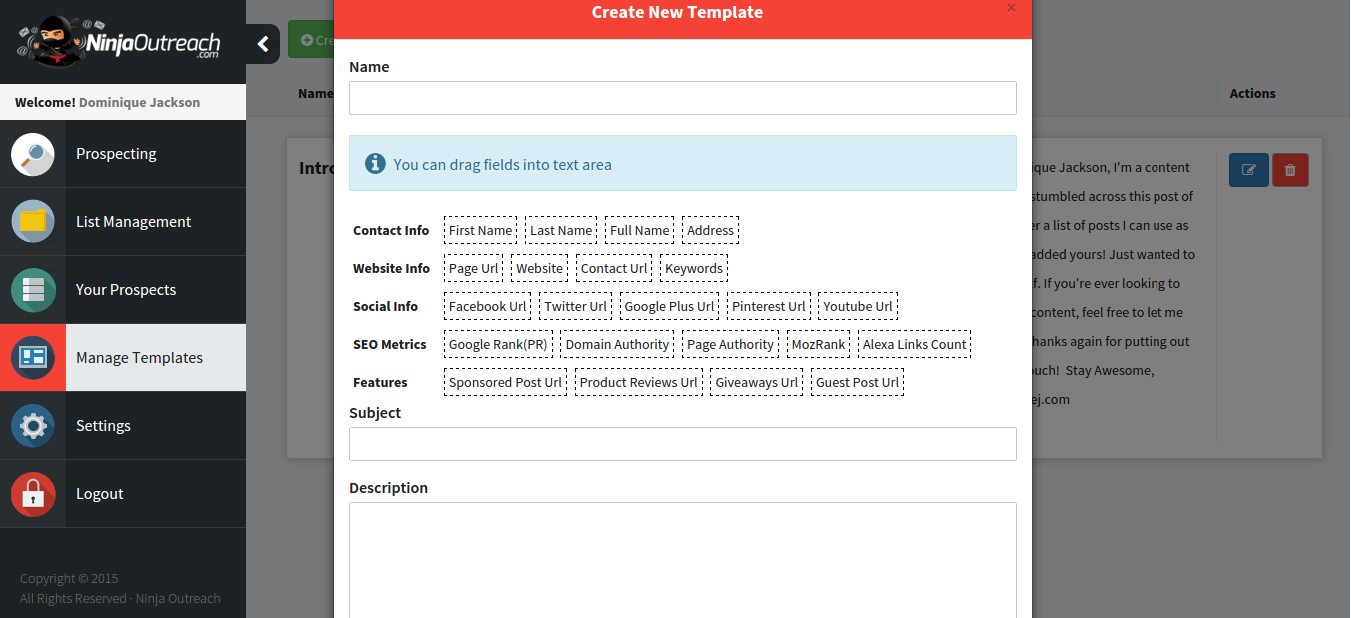 The first field is the template name. It's purely for your own use and the people you send emails out to won't see it. All of those dotted boxes you see are the different fields that you can drag and drop into the subject line or description in order to customize your emails. I love drag and drop interfaces!
Ninja Outreach will use the data it extracts like names, emails, page URL's, etc. and populate it to match the prospect. It makes it super quick to shoot out emails that are more personalized without having to copy and paste a bunch of info.
Here's an example of what the template I used for the email I showed you earlier looks like. Notice how in the final version I actually sent to Joey, all of the fields are populated with the correct info.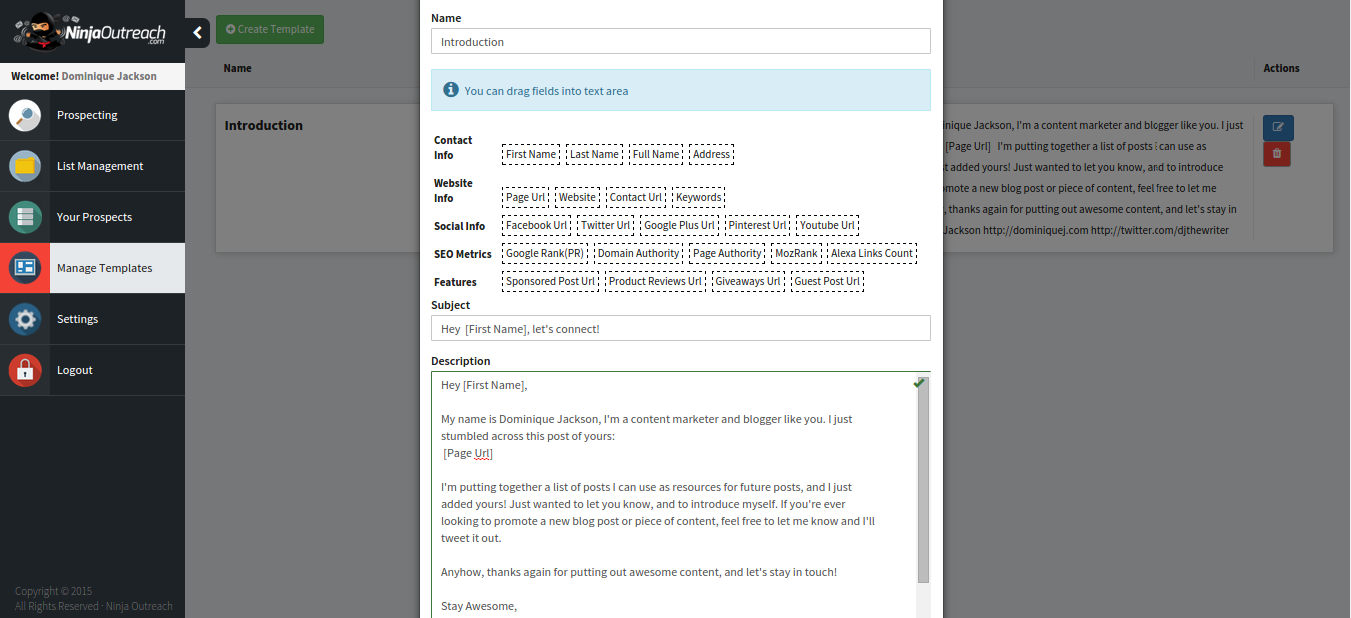 Not too shabby eh?
The last option you see is the settings, but there's really nothing there at the moment. It might be something they use later on. But here's what it looks like just in case you're interested.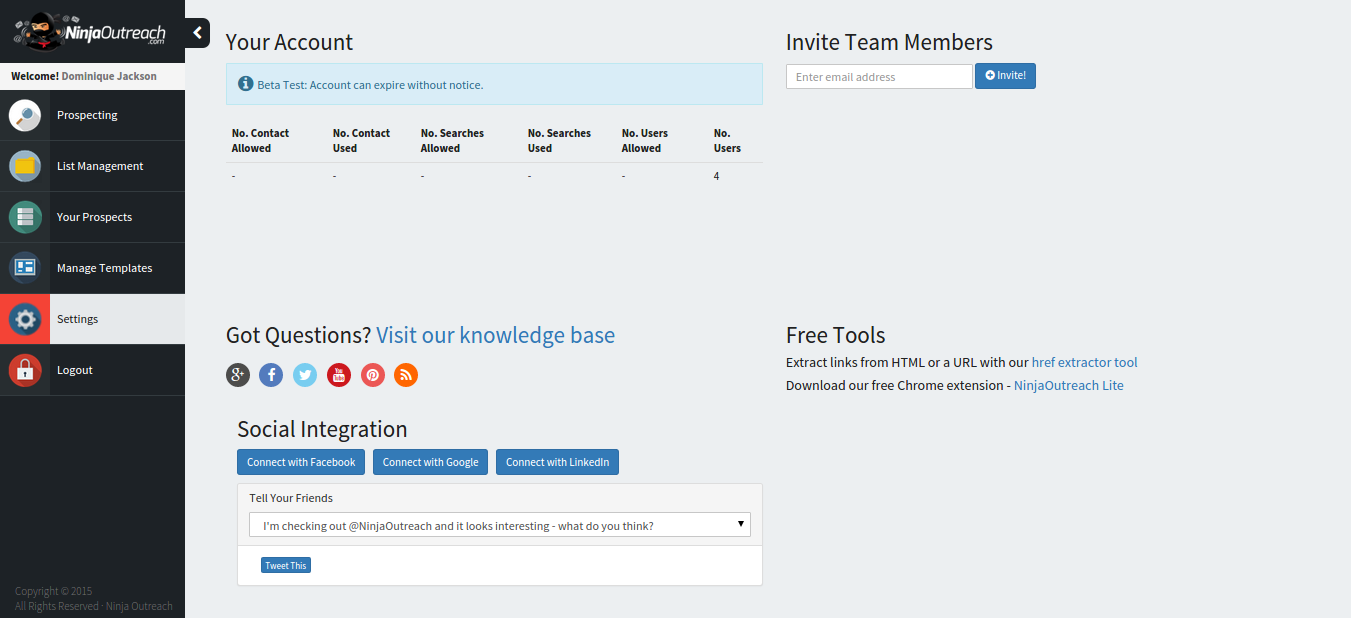 The Pros Of Ninja Outreach
First, let's go over some of the things I like the most about Ninja Outreach. For one, the ability to take care of all of these different tasks within a single tool is the biggest selling point in my opinion. If I showed you my embarrassing excuse of a spreadsheet I've used in the past to manage my blogger outreach, you'd probably laugh. So if you're not the greatest with staying organized like myself, then this is definitely something that's going to appeal to you too.
Next, I like the ability to filter down my results. When you're manually looking for prospects for outreach marketing, you're usually stuck doing Google searches and sifting through A TON of results to find ones that match what you're looking for. I like filtering out the search so that I only see results that have a person's name and email address, so it makes it a lot easier to reach out to them with some level of personalization. You don't want to be the spammy blogger that's sending out emails that start out with "Dear webmaster".
The ability to group all of your prospects into lists is nice too. Dividing out your prospects into lists makes it easier to create different email templates that go with each list. For instance, you may want to send out different emails to your list of "mommy bloggers" than you would to your list of "life hack bloggers".
Lastly, the actual email templates feature is pretty cool. I like anything that uses a drag and drop interface, so it's really simple to customize the templates to include the info you want.
Oh yea, and I have to point out that one of the biggest benefits is the team's passion to make the tool better. They sent out emails to all of the beta testers and asked to setup a 30 minute phone call, Skype, or Google Hangouts session to get our thoughts on what could be improved or done better. So that deserves some recognition. And they also send out emails with helpful tips and info, not just "buy my product" emails like some companies do.

The Cons Of Ninja Outreach
Like I mentioned in the beginning of this review, I'm reviewing the beta version of the Ninja Outreach web app. There are certain features available in the desktop version that this one doesn't have (yet). But here are some of the things I don't like about the tool.
I have to start with the prospecting part. Some of the filters don't work as accurately as I'd like. Primarily the "Features" section that is supposed to identify whether the site offers guest posts, sponsored posts, etc. From what I've seen, the "guest posts" option isn't available at all. When I check the box in the filter section, none of the results show guest posts, even though some of the sites I went through do allow them. After chatting a bit with one of the members of the Ninja Outreach team, he let me know that they're in the process of adding a bunch of new sites into their database that do allow guest posts, so hopefully that'll fix that issue.
The templates feature is one of my favorite aspect of the tool, but one thing missing that would be great is some pre-loaded templates. One of the creators of the tool, Dave Schneider is a blogger who has experience in outreach marketing, so it would be a HUGE benefit to have some premade templates to give users a place to start, in case they're completely new to blogger outreach and influencer marketing.
Something else that's missing is the ability to track your different campaigns through the Ninja Outreach web tool. Since the emails are sent from you own email client (Gmail in my case), the Ninja Outreach web app doesn't store complete conversations or let you setup full on campaigns. This would be a great addition since it would help it function more as a CRM too. With the desktop app, you send the messages through the actual tool, so this might be a feature available for that one, but I'm not sure. Hopefully Dave and the team at Ninja Outreach will see this and consider adding that feature into the web app.
How Much Does Ninja Outreach Cost?
The pricing is very fair in my opinion. When it comes to internet marketing tools, most tend to fall under one of two categories:
Made for bloggers/small businesses
Made for larger companies and enterprises
Ninja Outreach leans more towards the blogger and small business crowd. Here's what their current pricing looks like. When I spoke with Mark from Ninja Outreach, he hinted at the fact that these prices will probably be going up once the web app is completely finished and released to the public.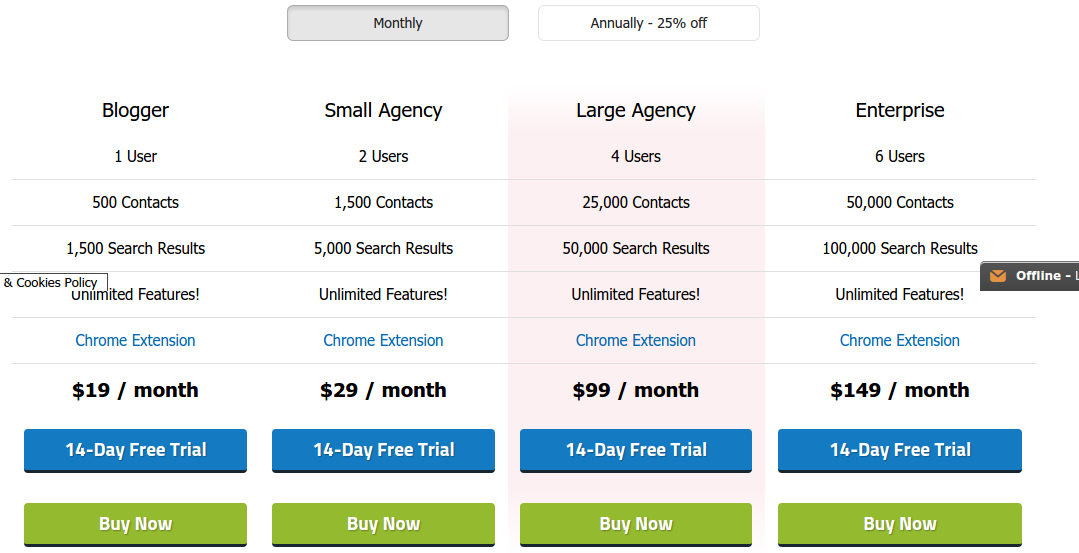 My Overall Opinion Of Ninja Outreach
Ninja Outreach has the potential to be an insanely useful tool. It's like having a CRM, outreach marketing tool, and blogger search engine all in one. So the value is there, but it's just missing some components for the web app to really be complete.
They've done a lot of things right, and it's not filled with a bunch of bugs like other software I've beta tested. The interface is super simple to use, and it really only takes about 5-10 minutes to learn how to use everything. I was able to login, and figure out exactly how to use it without needing to read through any type of tutorial, which is something that I look for in online marketing tools. I don't know about you, but I'm not really trying to spend an entire day reading through tutorials and support forums to figure out how to use software. So thumbs up for them in that department!
There are tools that handle the research part, and then separate tools for actually making contact. And these tools tend to be heavily geared towards enterprise companies, and their pricing shows it. Ninja Outreach is meant for anyone from a single blogger looking to grow their site, or a larger company that wants to launch an influencer marketing campaign.
Should You Buy Ninja Outreach?
Here's the million dollar question!
I have to say, if my laptop wasn't so crappy, I'd jump on the opportunity to buy the desktop version of this tool. It's more complete than the web application version right now, and there are no other tools out that I've seen that perform the same functions anywhere near Ninja Outreach's price range.
If you're cool with using desktop software, then I'd absolutely recommend giving Ninja Outreach a try. Influencer marketing is one of the best ways of building your site up, and gaining authority in your industry. And Ninja Outreach makes the process a lot easier. Once the web app version is completed, and if it does everything the desktop version does, it'll be added to my arsenal of internet marketing tools.
If you're on the fence about whether or not Ninja Outreach is for you, or if you just want to dig into it yourself, I recommend giving the 14 day trial a try. It's free, so you have nothing to lose. Either way, it's a very useful tool that can help you take advantage of one of the best online marketing techniques out there.
Ninja Outreach Review
Ease Of Use -

9/10

Interface -

10/10

Features -

6/10

Usefulness -

9/10
Summary
Overall, a very solid tool for influencer marketing and blogger outreach. It's very easy and simple to use. The pricing is right on the money. There's just some features missing from the web app that would really take it to the next level. I'd definitely recommend it! Try Ninja Outreach For Free!